I hope you all enjoyed the holidays and took some time to spend with loved ones and reflect on the true meaning of Christmas. While brainstorming how I wanted to do the monthly Cornerstone blogs this year, I decided I wanted to change it up from 2021. Last year, the Cornerstone Impact blogs were separate topics each month. For 2022, I'll be going through the Gospel of Matthew throughout the entire year (maybe even into 2023 depending on how deep I go into each section.) I'd encourage you to do some further study on your own of Matthew as I won't be covering everything in the blogs. My hope this year is that we will be able to see the connections between Jesus and the Old Testament promises God made to Israel and learn more about who Jesus is and His importance in our lives.
The Long-Awaited King
Matthew starts out with the genealogy of Jesus (vv 1-17). I'm going to be completely honest, I tend to skip over the genealogies whenever I get to them. Most people probably skip over because it's just a bunch of names (with many being difficult to pronounce). Is it really important to read all of the names? If you take the time to read through all of them, you can learn a lot.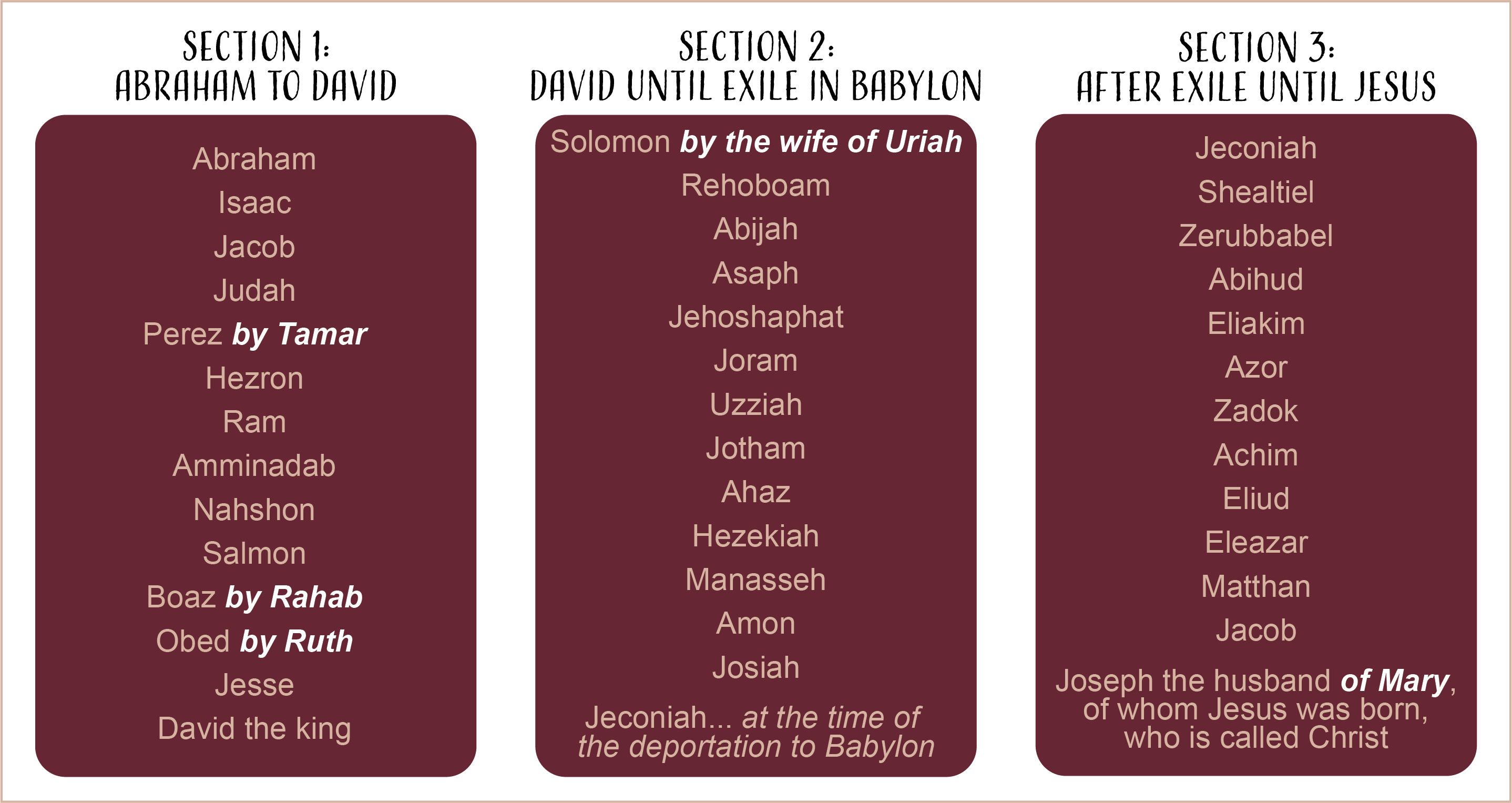 So why did Matthew start with a genealogy for Jesus? Matthew was written to the Jews, who used genealogies to establish a person's heritage, inheritance, legitimacy, and rights. Basically, a person's genealogy was important! The goal of sharing Jesus' genealogy was to show Jesus' legal descent from David and Abraham. While this wasn't an exhaustive list, it did show that Jesus came from the line of David and Abraham.
What stood out to me in the genealogy is the fact that five women were included – typically only men were included in genealogies as they were the head of household. What stands out even more are the women Matthew chooses to include:
Rahab and Ruth (v. 5) were Gentiles
Tamar (v. 3), Rahab, and Bathsheba ("the wife of Uriah" v. 6) were all women of questionable character
Mary was the last woman included in verse 16. Jesus' genealogy was broken up into 3 groups of 14 people and included men, women, adulterers, prostitutes, heroes, and Gentiles. This is significant in that Jesus didn't come for a particular gender, race, or sinner; He came to be the Savior to ALL.
[Further Study: go back and read about each of the people listed in the Old Testament]
Responses to the King's Birth
Herod the Great was the king of Judea when Jesus was born. In Matthew 2, there are two responses to Jesus' birth – the wise men and King Herod responded differently.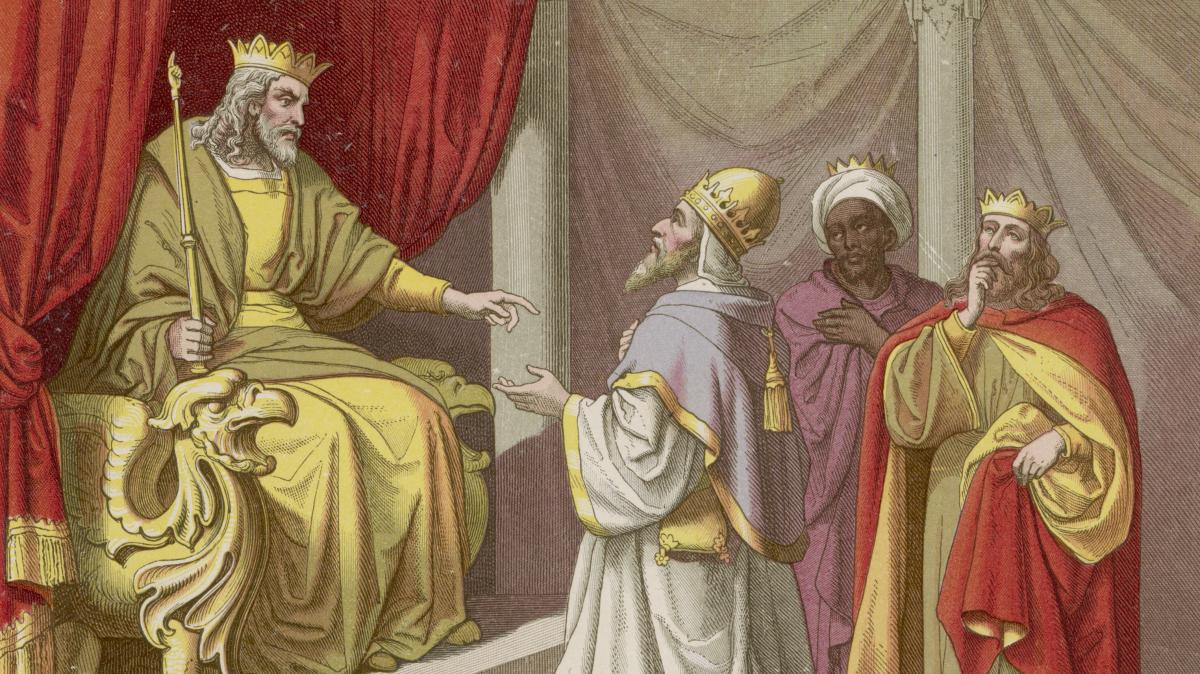 "Now after Jesus was born in Bethlehem of Judea in the days of Herod the king, behold, wise men from the east came to Jerusalem, saying, 'Where is he who has been born king of the Jews? For we saw his star when it rose and have come to worship him.' When Herod the king heard this, he was troubled, and all Jerusalem with him." - Matthew 2:1-3
While the wise men are rejoicing and worshiping Jesus (see verse 10-11), not everyone was excited for Jesus' birth. His birth threatens Herod the Great's throne and Israel's corrupt religious and political leadership in Jerusalem. Reading through verse 18, you see King Herod's extreme response to Jesus' birth in order to try and protect his throne. He wants to kill Jesus, and after being tricked by the wise men, he has all the male children under 2 in Bethlehem killed (Herod's estimated age for Jesus). This wasn't the first time baby boys were killed because the king felt threatened (see Exodus 1-2 where Pharaoh commands all Hebrew males being born to be killed).
Throughout Matthew, you'll see Old Testament prophecies fulfilled. It isn't surprising that we're already seeing people despise Jesus when they hear about His birth. In Isaiah, it says:
"Thus says the LORD, the Redeemer of Israel and his Holy One, to one deeply despised, abhorred by the nation, the servant of rulers…" - Isaiah 49:7a
"He was despised and rejected by men, a man of sorrows and acquainted with grief; and as one from whom men hide their faces he was despised, and we esteemed him not." - Isaiah 53:3
At the end of chapter 2, we see that Joseph goes to Nazareth with Mary and Jesus after King Herod's death. Next month, we're going to jump into Matthew 3 and 4 which jumps to the beginnings of Jesus' ministry.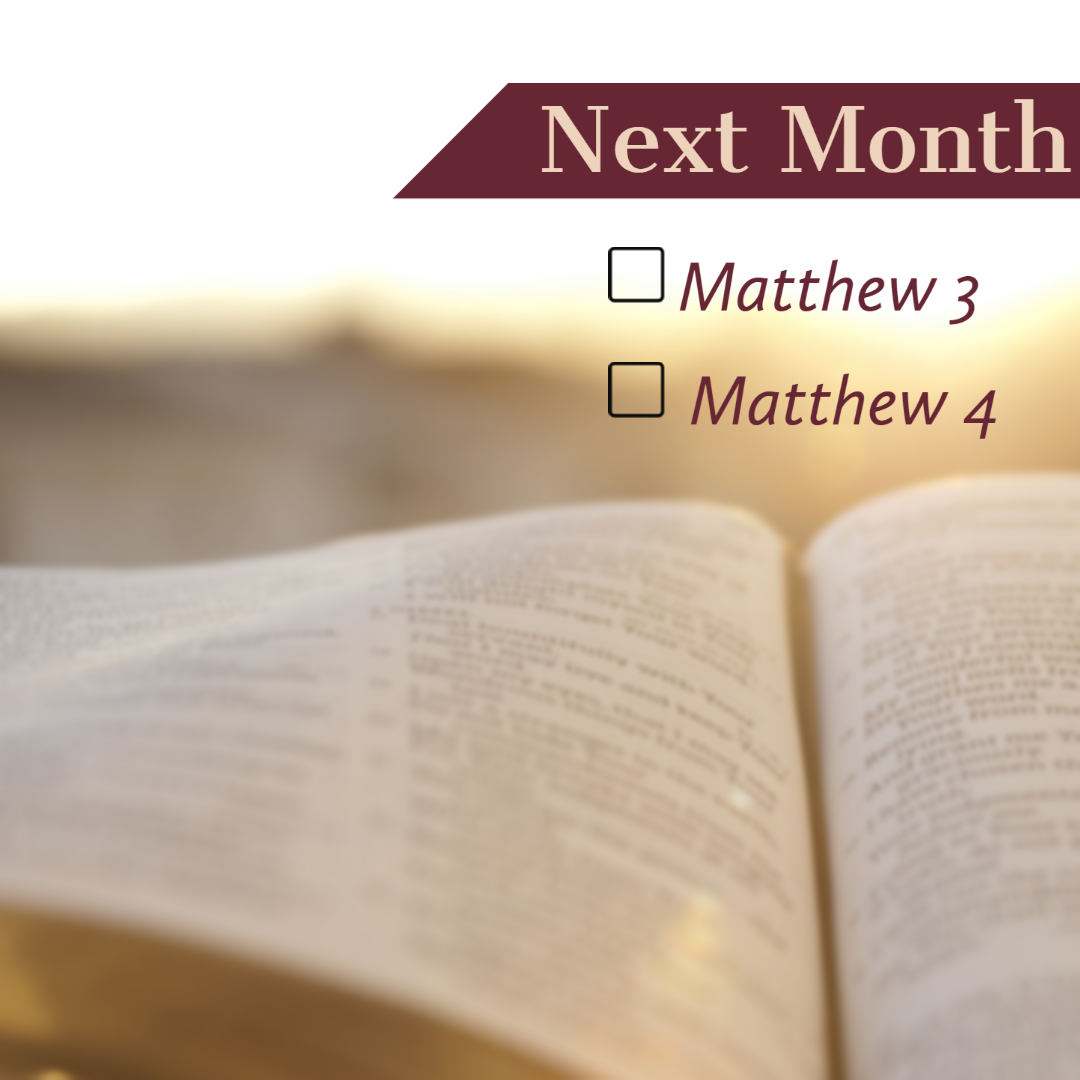 ---
Cornerstone Impact Update
Here's a quick update from some of our BRI partners:
Eventide
In December, Eventide launched a new educational initiative: Eventide Center for Faith & Investing! Learn more on their LinkedIn page.
December Reflections
Every human, Christian or not, has a longing for light when going through dark times. The last couple years have been tough for a lot of people. We've seen the darkness of this world and we all are looking for glimmers of light. Check out an article from Eventide's Shaun Morgan as he discusses this further and what role investing has:
Inspire
Inspire Investing has an annual party for staff and family to pack shoeboxes for Operation Christmas Child (through Samaritan's Purse). This is a program that shares the gospel of Jesus to children in need. The shoeboxes are filled with essential supplies as well as fun toys/activities. Inspire Investing's team was able to pack 700 boxes, and it was funded by the Inspire Give50 program (donating at least 50% of corporate net profits to Christian ministries). When you invest with Inspire, some of your money is going towards Christian ministries!
Check out more on their annual event for Operation Christmas Child here:
---
We look forward to continuing the spread of Biblically Responsible Investing, and more importantly, spreading the Gospel this year!