I got an email update from CISA yesterday telling me that apparently today is "Slam the Scam" Day. You can read the update in its entirety here. This is an excerpt:
In association with the Federal Trade Commission's National Consumer Protection Week, the Social Security Administration (SSA) has designated March 5 as National "Slam the Scam" Day to educate Americans about telephone scammers impersonating government employees. These scammers aim to gain potential victims' trust and steal their money and personally identifiable information.
We all hear about the dangers of phishing emails, but it's also important to be cognizant of telephone scams - especially during tax season. It's important enough that the SSA (Social Security Administration) felt the need to designate a day of awareness for it, and they have previously warned about the dangers of Social Security-related scams, too. In fact, based on the "Related posts" under that article it seems that this is something the SSA really wants you to know about: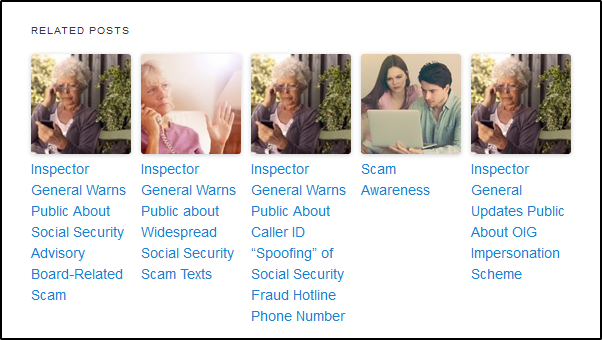 Similar scams involving the IRS and taxes are also going around, and  just like with phishing attacks the criminals are only getting better at it. Some of the same basic principles for avoiding phishing attacks also apply to telephone scams:
Educate yourself on how legitimate communication from the IRS, SSA, your bank, etc happens (see below)
Consider the context around a phone call
What information is somebody on the other end asking for? Do they need this information? Can they verify that they are from the IRS, SSA, your bank, etc?
Here are CISA's specific reminders from their email update yesterday:
Government agencies will never call or text you unsolicited and demand immediate payment to avoid arrest or other legal action.
Government agencies will never ask you to pay fines or  fees with retail gift cards, prepaid debit cards, wire transfers, internet currency, or by mailing cash.
If you receive these calls or texts, hang up or ignore them, and talk to friends and family to make sure they do the same.
That last point is pretty important - especially for your less-than-technically-inclined older relatives, who may not have the knowledge to identify such scams and are a prime target for IRS and SSA scams because of their age.
As recommended by the SSA and CISA: if you get one of these calls, just "slam the scam". Unfortunately, hanging up on a modern cell phone just isn't the same as literally slamming down a handset - or even snapping a flip phone shut.