Last month, we discussed our attitude towards finances. This month's topic goes hand in hand with our attitude and aligning our finances with God – giving/tithing. Talking about money and giving can make people uncomfortable, but it shouldn't! My hope is that through discussing how we should be giving (as a Christian) based on what the Bible says, you'll have a better understanding of what God wants us to be doing.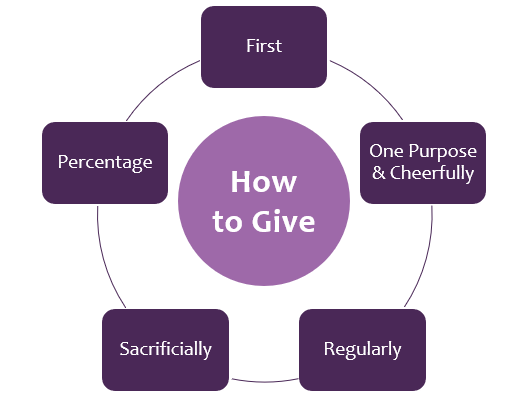 FIRST
We should be giving to God first before anything else.
"Honor the Lord with your wealth and with the firstfruits of all your produce; then your barns will be filled with plenty, and your vats will be bursting with wine." - Proverbs 3:9-10
This can be a challenge because you don't know what the month will hold. What if you need more money throughout the month and run out because you gave first? We need to trust that God will provide for us.
The verse mentions "firstfruits." This is the first agricultural produce of the season. In the Bible, when they gave their firstfruits to God, it was an expression of faith. They trusted that the rest of the harvest would come later. Farmers were giving to God before even knowing that more would come – that's exactly what we need to do with our finances. When we give first, we are acknowledging that everything we have comes from God.
ONE PURPOSE & CHEERFULLY
"Each one must give as he has decided in his heart, not reluctantly or under compulsion, for God loves a cheerful giver." - 2 Corinthians 9:7
This goes right back to our attitude. We should want to give to God and have a cheerful attitude towards it, we shouldn't be upset about having to give.
REGULARLY
"On the first day of every week, each of you is to put something aside and store it up, as he may prosper, so that there will be no collecting when I come." - 1 Corinthians 16:2
"Every man shall give as he is able, according to the blessing of the Lord your God that he has given you." - Deuteronomy 16:7
We don't necessarily have to give every single week; however, it does need to be on a regular basis. If you get paid biweekly, give the same amount of time. If you get paid monthly, give monthly. (This can be tied back to giving first).
SACRIFICIALLY
"And he sat down opposite the treasury and watched the people putting money into the offering box. Many rich people put in large sums. And a poor widow came and put in two small copper coins, which make a penny. And he called his disciples to him and said to them, 'Truly, I say to you, this poor widow has put in more than all those who are contributing to the offering box. For they all contributed out of their abundance, but she out of her poverty has put in everything she had, all she had to live on.'" - Mark 12:41-44
Just like other areas of our Christian life, we want our giving to be sacrificial. We don't want to just give an unmeaningful amount (for us) just to checkoff a box. Just like in the passage from Mark above, our giving amounts are going to be different from person to person, as each person's income varies; however, each person giving should feel like they are sacrificing something when they give.
PERCENTAGE
The final part of how to give, is by a percentage.
"For I do not mean that others should be eased and you burdened, but that as a matter of fairness." - 2 Corinthians 8:13
Just as I mentioned above, everyone has different incomes. Giving $500/month might be a lot for some people, but only a small percentage of someone else's income. A good goal to shoot for is 10%.
All of these areas discussed above are tied together. When we talk about a Biblical approach to finances and making a budget, we do so while keeping the five points above in mind. Giving should be at the top of your budget. You set it as a percentage (about 10% – depending on what is sacrificial to you) and it doesn't matter how much everything below giving costs, you don't adjust your giving to "make ends meet." When your budget is tight, instead of cutting from your giving, you look towards other categories to reduce spending.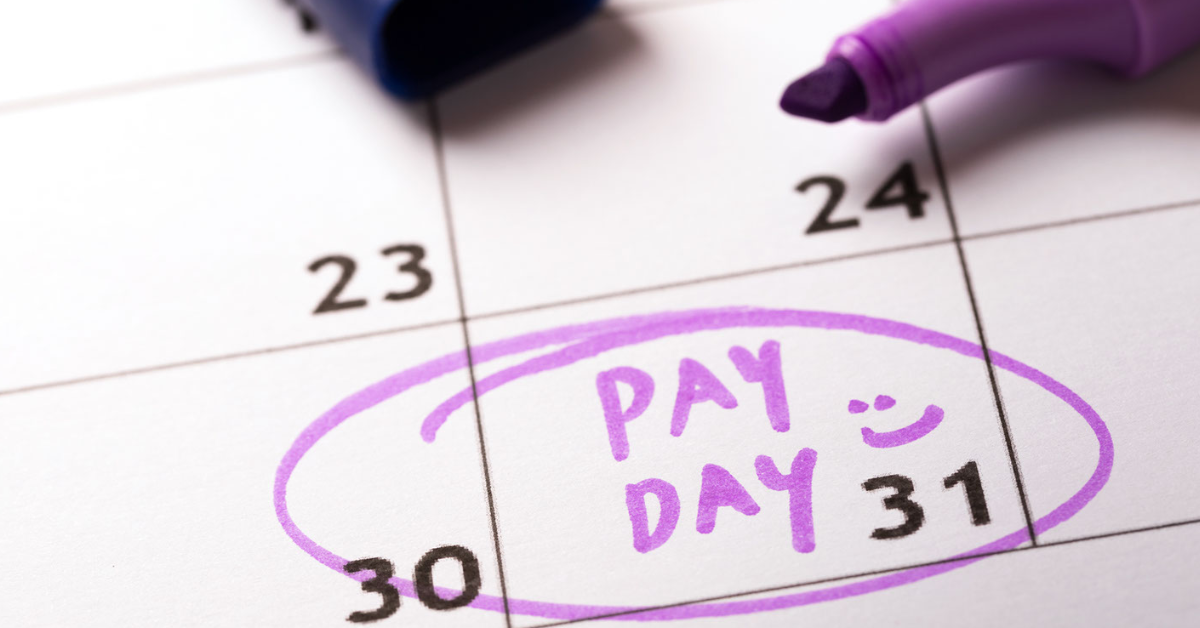 Sometimes it can be hard when you're living paycheck to paycheck to keep giving 10% of your income to God. You might feel like things wouldn't be so tight if you weren't living on only 90% of your paycheck. Something I've heard many times is, "God can do more with your 90% than you can do with your 100%." This is so true and important to remember when you're considering not giving as much. Trust in God to provide for you!
---
Going deeper
The content in these blogs is taken directly from our Biblical Approach to Finances workshop. In the workshop, each session has a worksheet as "homework" to go along with it. In order to keep the blogs shorter, I'll be splitting each session into several blogs, but I will occasionally throw in an example of one of the worksheets that goes with the content we are covering. I encourage you to take some time to go through this before next month's blog.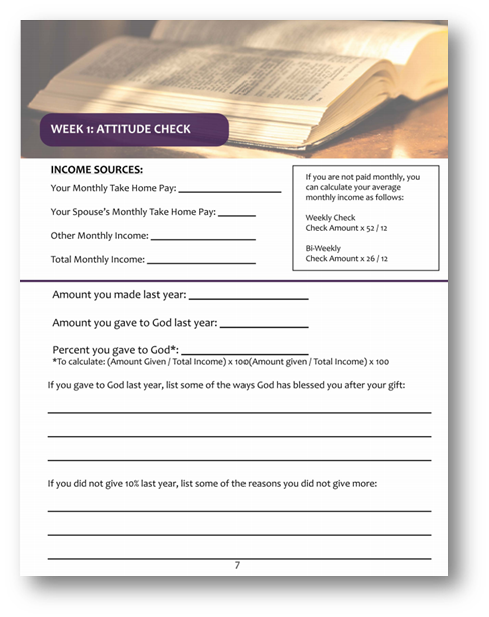 This worksheet specifically wants you to take a deeper look at your giving. Figure out how much you make, how much you give, and then the percent you gave to God last year. Depending on how much you gave, answer the reflection question:
If you gave to God last year, list some of the ways God has blessed you after your gift.
If you did not give 10% last year, list some of the reasons you did not give more.