For those of you that have been away from your computer the past two weeks you haven't missed much. The last 13 days has been one of the most calm on record. Yesterday I heard one analyst say the sideways movement was a coiled spring ready to explode to the upside as soon as President Trump finally gets a win on his economic agenda. A few segments later another analyst said this is the calm before the storm.
This week's Chart of the Week shows the S&P 500 index for the last 13 days. Directly below it is the Volatility Index, which is how much future volatility is priced into the market. Apparently, investors believe the lack of volatility is going to continue well into the future.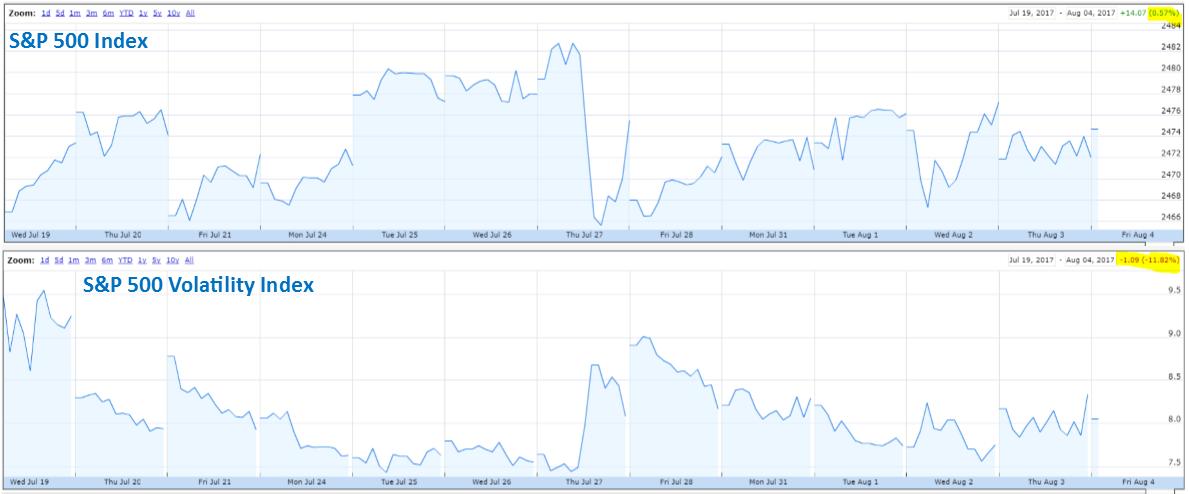 Implied volatility is at record lows, even falling below where it was at preceding the 1999 & 2007 tops. We don't mess around with futures or options contracts — too many things can work against you in those markets, but put options are EXTREMELY cheap right now (again, not a recommendation, I've seen too many individuals and professionals lose significant amounts of money playing around with the ETFs based around bets on the direction of the VIX). What it does mean for us is being especially vigilant in making sure our trading systems are acting how they are supposed to and being ready to implement any defensive trades that may be necessary.
If it turns out this is a coiled spring, we are also well positioned to take advantage of that move, as low as I believe those odds are of actually paying off for those on the bullish side.