COVID-19, the Black Lives Matter movement, the election, storming the capital, and the recent inauguration of President Biden are just some of the major events that have occurred over the last year. It was hard for so many people. The struggles left people searching for hope, for the light at the end of the tunnel. I believe that 2020 provided many opportunities for Christians to show unbelievers where their hope is found: in Christ. If you're a Christian, did you spend 2020 focused on becoming more like Christ and showing others His love by how you treated others? Or did you spend 2020 judging those with differing opinions and adding to the unrest?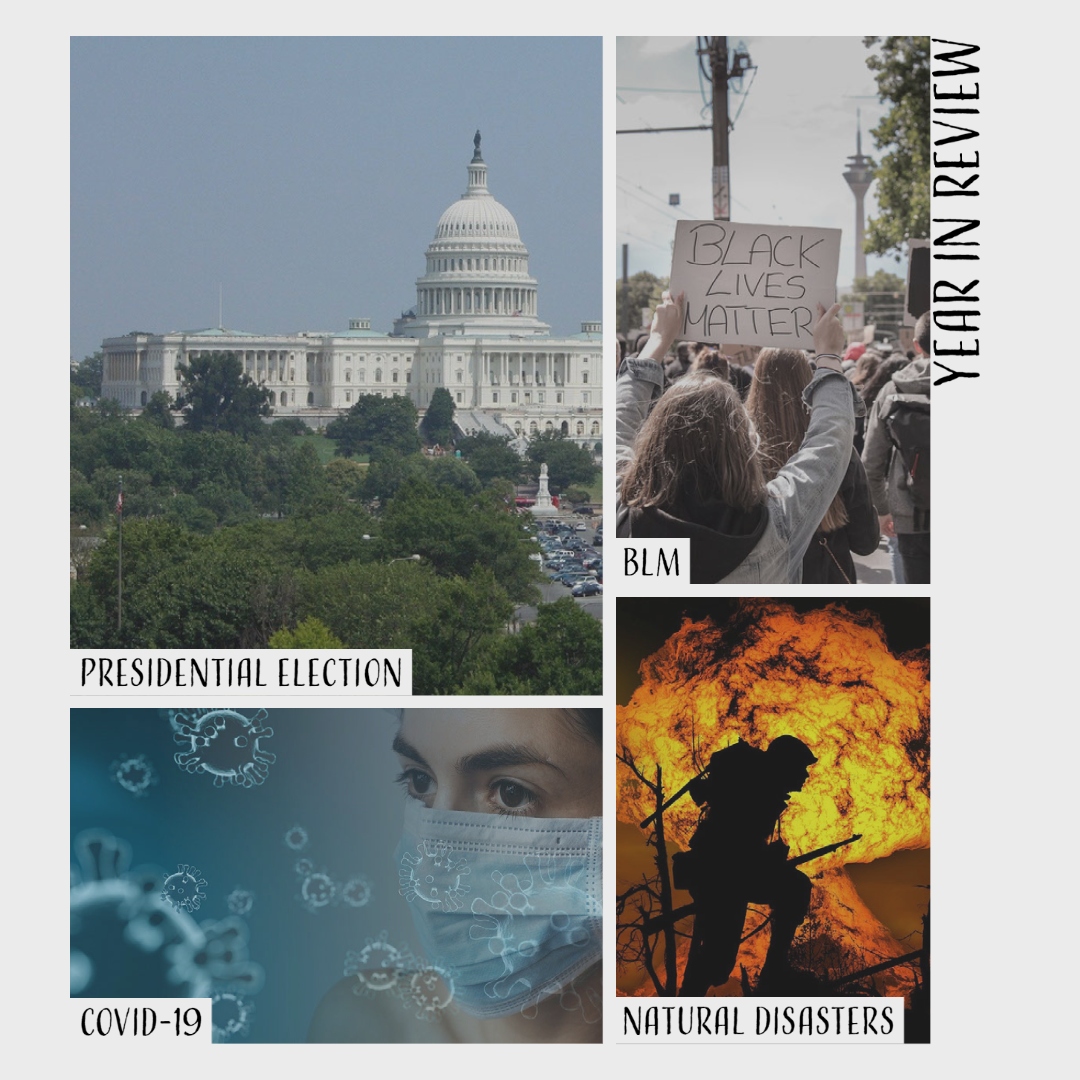 I usually remain relatively quiet on social media. Over the last year I spent more time observing what other people were sharing. I was honestly disappointed in the amount of hostility that was being spread – especially from those who call themselves Christians. How much different would 2020 and the beginning of 2021 have looked if we focused on spreading love and kindness to everyone? I personally believe things would have been very different. I'm not saying we must always agree with everyone, nor should we keep silent; however, I do believe that we need to look at our hearts behind everything. (Check out my last article, "Your Motives Matter").
It was made clear in the Bible that Christians are to love: the greatest commandments are to love God and to love others. See Matthew 22:34-40:
But when the Pharisees heard that he had silenced the Sadducees, they gathered together. And one of them, a lawyer, asked him a question to test him. "Teacher, which is the great commandment in the Law?" And he said to him, "You shall love the Lord your God with all your heart and with all your sould and with all your mind. This is the great and first commandment. And a second is like it: You shall love your neighbor as yourself. On these two commandments depend all the Law and the Prophets."
The command, "You shall love your neighbor as yourself" is mentioned several other times throughout the Bible:
Leviticus 19:18
Matthew 22:39
Romans 13:9
Galatians 5:14
The church I attended in Tucson went through the book of Romans in 2020. The first 11 chapters focus on doctrine, then the last 5 are practical application (how we ought to live after understanding the doctrine that Paul teaches). There's much we can take and apply throughout the book, but for this month, I'm going to focus on Romans 12:9-21, which specifically focuses on how Christians should treat one another, well summarized in 12:9a: "let love be genuine." The central theme for the whole section is love. Everything Paul tells us to do in these verses is an expression of true, biblical, genuine love.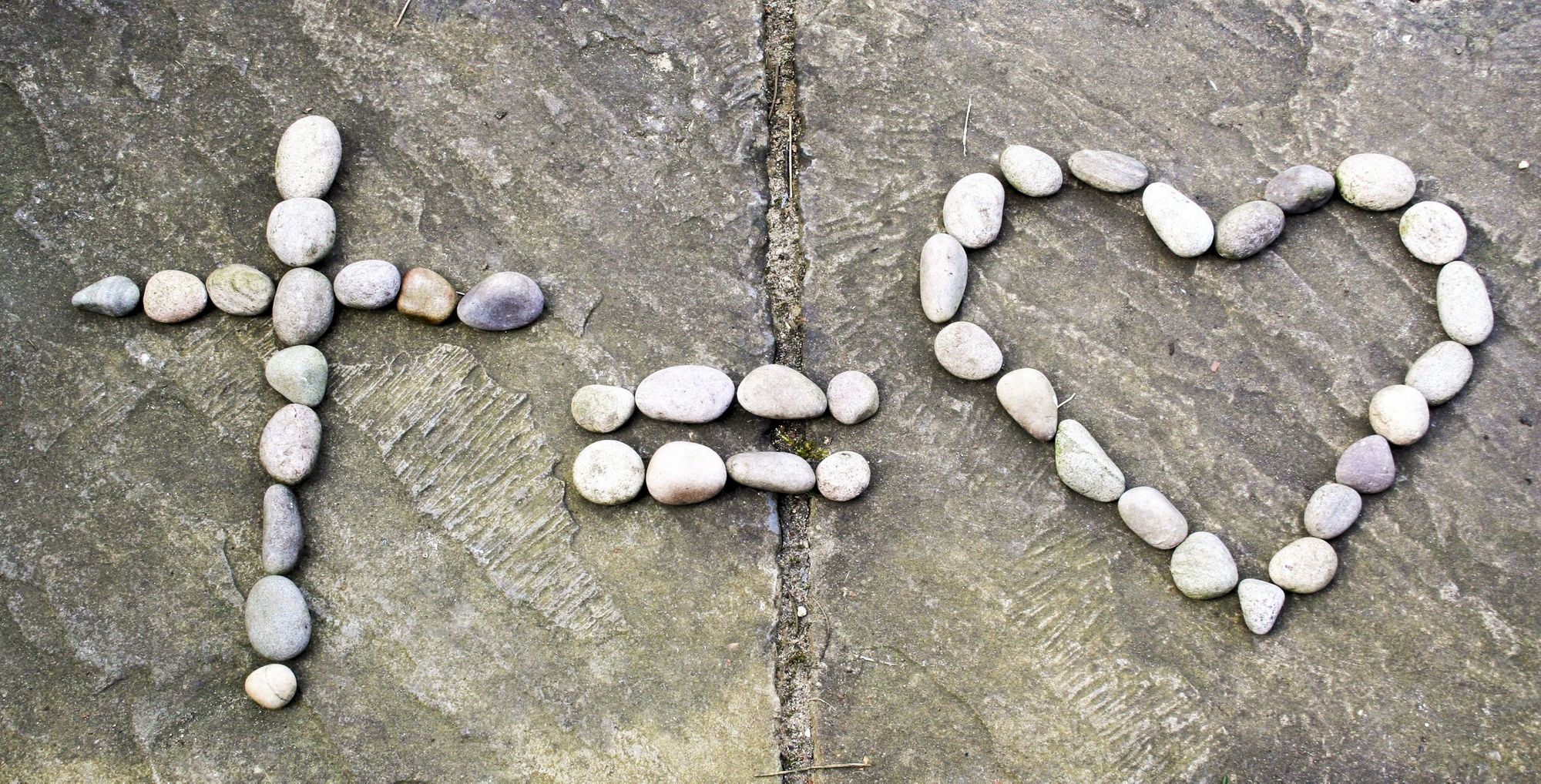 [Keep in mind, Paul was writing to Christians living in Rome, an environment far more unhospitable to Christians than America is today.]
What does it mean to "let love be genuine"? The definition of genuine is "truly what something is said to be; authentic." Other versions of this verse say, "let love be without hypocrisy" or "let love be sincere." It's not enough for us to fake our love for others.
The word for love used in verse 9 is 'agape' in Greek. Agape love is the self-sacrificial love that Jesus shows us. It's love that is focused on the interest of others over ourselves. John 13:34-35 says:
A new commandment I give to you, that you love one another: just as I have loved you, you also are to love one another. By this all people will know that you are my disciples, if you have love for one another.
Keep this idea of love in your mind as we go through the rest of this section as Paul describes how we can show this love to other Christians and the rest of the world.
Our love for one another (other Christians)
Romans 12:9-13
Let love be genuine. Abhor what is evil; hold fast to what is good. Love one another with brotherly affection. Outdo one another in showing honor. Do not be slothful in zeal, be fervent in spirit, serve the Lord. Rejoice in hope, be patient in tribulation, be constant in prayer. Contribute to the needs of the saints and seek to show hospitality.
This whole section is about love, right? But in the very same verse that it talks about love, it tells us to hate. The definition of abhor is, "regard with disgust and hatred." However, it's specifically telling us to hate some THING not someone. We're told to love the sinner, hate the sin. This hatred for the evil in our world is actually an expression of our love. We're then told on the flip side to hold fast or cling to what is good.
Then, "Love one another with brotherly affection." "Brotherly affection" describes the love in a family. You tend to not have to even think about helping your brother or sister if they're in need. It should be the same with others in the church. The verse then goes on to say we should "outdo one another in showing honor." Imagine if the church did this. People would be more encouraging to one another, there would be less gossip, there would be more people willing to serve/volunteer, etc.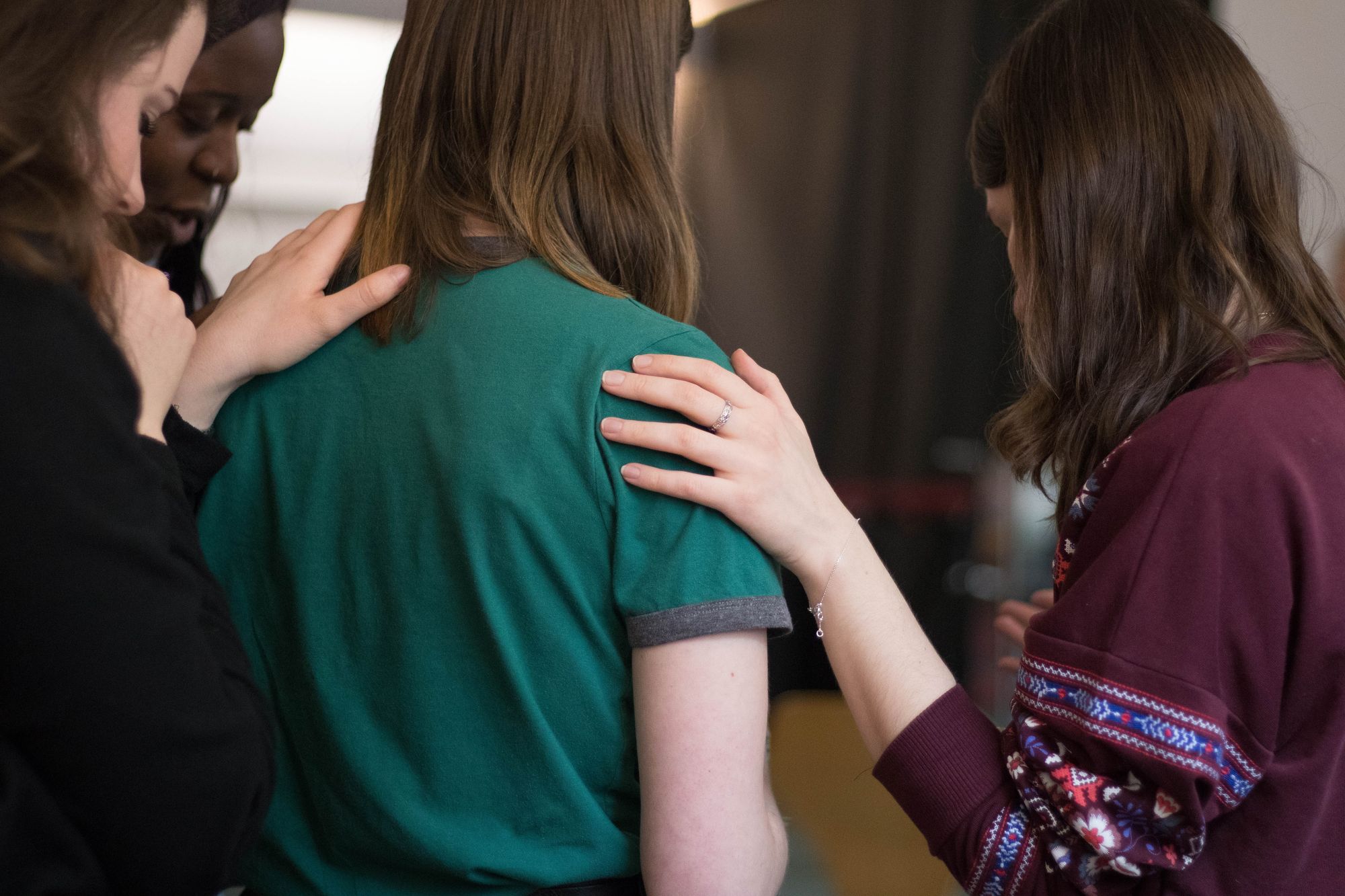 "Be fervent" means having or displaying a passionate intensity. We should be serving the Lord with passion. Does that describe you? We're also told in this section that our love for others in the church should affect:
How we spend our money

Are you willing to help people struggling in the church financially?

How hospitable we are

Are you someone closed off from others?
Galatians 6:10 says:
So then, as we have opportunity, let us do good to everyone, and especially to those who are of the household of faith.
Seek to do good to everyone, but take special care for your brothers and sisters in Christ.
Our love for the world
Romans 12:14
Bless those who persecute you; bless and do not curse them.
We're told to ask God to look favorably on these people – ask God for someone else's good. We should be praying blessings on the world, not curses – even for those who persecute you. Paul is repeating what Jesus said in Matthew 5:44:
But I say to you, Love your enemies and pray for those that persecute you.
Again in Luke 6:
But I say to you who hear, Love your enemies, do good to those who hate you, bless those who curse you, pray for those who abuse you.
In today's world, people await the chance to rail against those who have differing points of view. This has been seen a lot during election season between Democrats and Republicans. Christians, on the other hand, should be in prayer for those who oppose us. We should stand out from the rest of the world! It's okay to disagree with others and voice your opinion, but we need to do so in a way that spreads love. When you're debating with someone, analyze your heart. I also encourage you to analyze your social media pages. Does it align with Romans 12:14 and 18?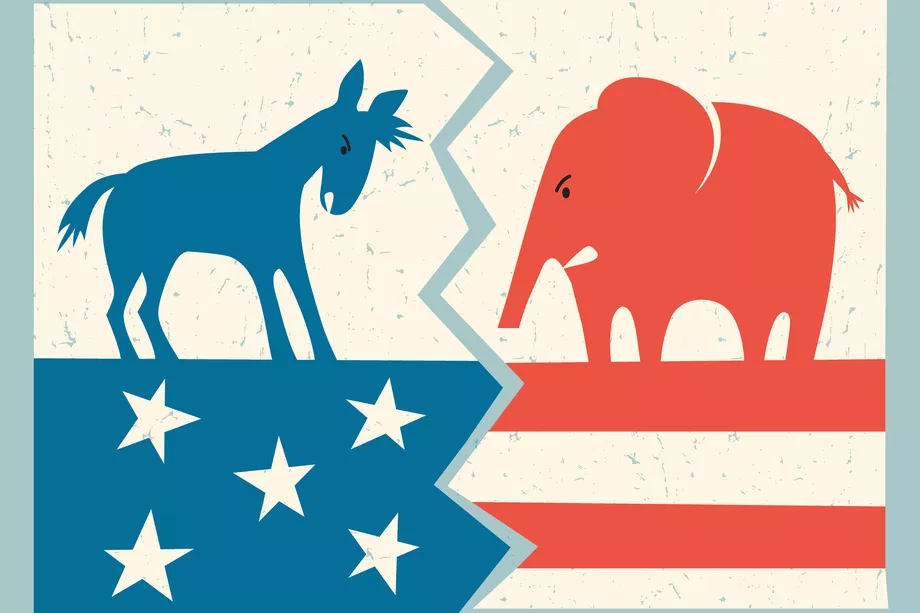 Next, we're told to have empathy for one another:
Rejoice with those who rejoice, weep with those who weep. Live in harmony with one another. Do not be haughty, but associate with the lowly.
We should truly celebrate other's successes and mourn with those who mourn. Both believers and unbelievers alike, that we might represent a God who empathizes with us. As far as it depends on us, we should seek to live harmoniously with those around us. That does not mean compromising on biblical values, but favoring harmony over hate.
Romans 12:17-21
Repay no one evil for evil, but give thought to do what is honorable in the sight of all. If possible, so far as it depends on you, live peaceably with all. Beloved, never avenge yourselves, but leave it to the wrath of God, for it is written, "Vengeance is mine, I will repay, says the Lord." To the contrary, "if your enemy is hungry, feed him; if he is thirsty, give him something to drink; for by so doing you will heap burning coals in his head." Do not be overcome by evil, but overcome evil with good.
This section talks about revenge. See more on this from Jesus in the Sermon on the Mount in Matthew 5:38-41:
You have heard that is was said, 'An eye for an eye and a tooth for a tooth.' But I say to you, Do not resist the one who is evil. But if anyone slaps you on the right cheek, turn to him the other also. And if anyone would sue you and take your tunic, let him have your cloak as well. And if anyone forces you to go one mile, go with him two miles.
We are told to not seek revenge when people wrong us. Actually, we're told to do the opposite and seek peace and good.
This isn't an easy thing to do. But remember that God is the ultimate judge and sees everything that people do. Nothing will slip past God. Justice will come. Furthermore, we are not called to do this on our own strength. The Holy Spirit enables us to do good.
As Christians, we should strive to be more like Christ every day. I challenge you today to look at how you treat others around you and see if you're showing love like Jesus loves us. Remember, the world is watching us and how we react to things and treat others. If people look at your life, are they going to see characteristics of Christ in you? Let's stand out in the world and spread agape love in the midst of all the hate!
---
Our Cornerstone Models are designed to spread God's love through our investment. In addition to a monthly personal lesson, we like to include an update from our partners so you can see what an investment in the Cornerstone Models is doing to further God's kingdom.
BRI Partner Update
Eventide
Investing and loving your neighbors
There are several different aspects of values-based investing – one is avoiding companies who disregard the value of humankind and another is embracing companies that value humankind. Eventide wants to support companies that value its customers and employees. This can be through life-saving medications, employee benefits, etc. They want to both avoid companies that don't show love to others AND embrace companies that show love for others.
Eventide pursues the following investment ideals as they evaluate companies for their portfolios:
Respecting the value and freedom of all people
Demonstrating a concern for justice and peace
Promoting family and community
Exhibiting responsible management practices
Practicing environmental stewardship
Eventide's CEO, Robin John explains how they pursue the above investment ideals when evaluating companies to include in their portfolios in this brief video.
---
Please contact me if you have any questions or would like more information. You can also learn more about the Cornerstone Portfolios at: SEMWealth.com/Cornerstone