In 25 years of following the markets I do not know if there has been a more hotly debated election. We are seeing widespread interest from people who never voted before and widespread activism from those who remained silent for most of their adult lives. This has caused a lot of angst with our clients and advisors in terms of what the outcome means for their investment portfolios.
I put together this short video to discuss what you should be doing to prepare for the election as well as how SEM is prepared for the wide range of outcomes we may see.
While our hearts and minds argue that our favorite candidates are the answer, the data says party affiliation has not mattered when it comes to stock market returns. This chart illustrates the 4-year annualized returns based on the possible outcomes.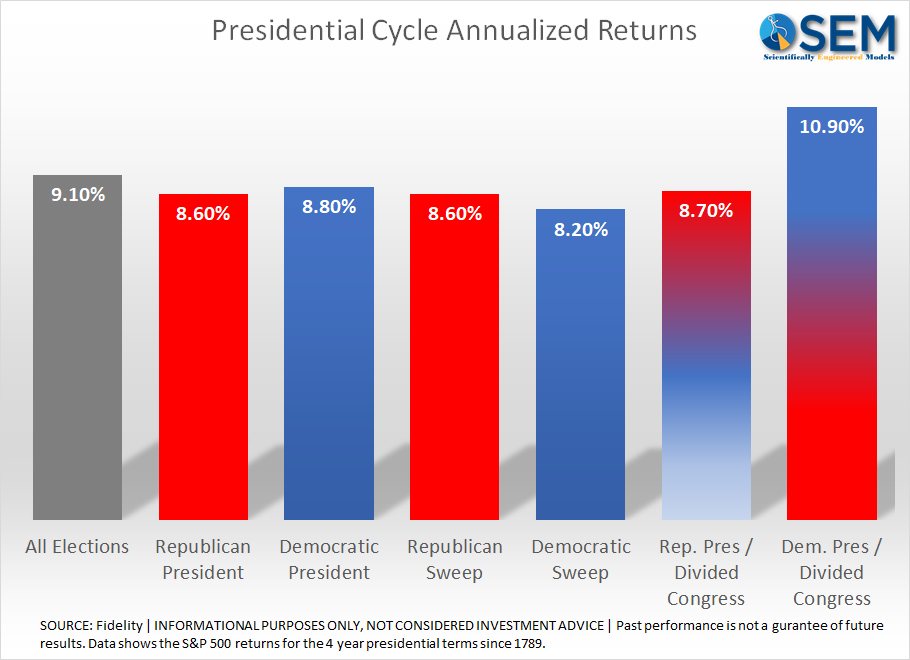 Please be careful using even this data. There is a huge skew to the "Democratic President/Divided Congress. We've only seen 6 years since 1789 where this has been the case – the second term of Bill Clinton in the late-1990s and President Obama's 2nd term. Each scenario has had different experiences. Some start out strong and finish with a big sell-off, others start with a sell-off and finish strong.
This is why our data driven approach is so critical. It is designed to adapt to whatever is thrown our way. I've seen so many mistakes made by clients and advisors that I must emphasize my number one rule of election year investing:
"Do not let your political opinions influence your investment decisions."
That said, this election is likely to be one like no other we've experienced in our lifetimes. Because of this and the possible impact it could have on the market, we hosted a special webinar on September 29. You can watch it below: