I've often told our advisors and clients the calendar can be a cruel thing for investment managers. Everyone focuses on the returns for each month, quarter, or year, which is often skewed by large moves the last few days or weeks of the period. Look at 2018 where a spectacular year was ruined by a nearly 20% drop during the final quarter. Stocks would have closed down 10% or more for the year had a huge rally not been staged the last week of the year.
Going into the last two weeks of the year stocks are threatening to post the biggest calendar year gain since 1997. Years like this often lead to a feeling of euphoria that far too often leads investors and their advisors to become overconfident in the outlook for the following year. I haven't seen this sort of excitement since the late 1990s where the decade closed with three consecutive 20%+ returns for stocks.
Stepping back just 3 months you get a different picture. Doing this reminds you how quickly stocks can fall. Remember how euphoric everyone was going into the last quarter of 2018? That quickly turned into concerns about the end of the bull market.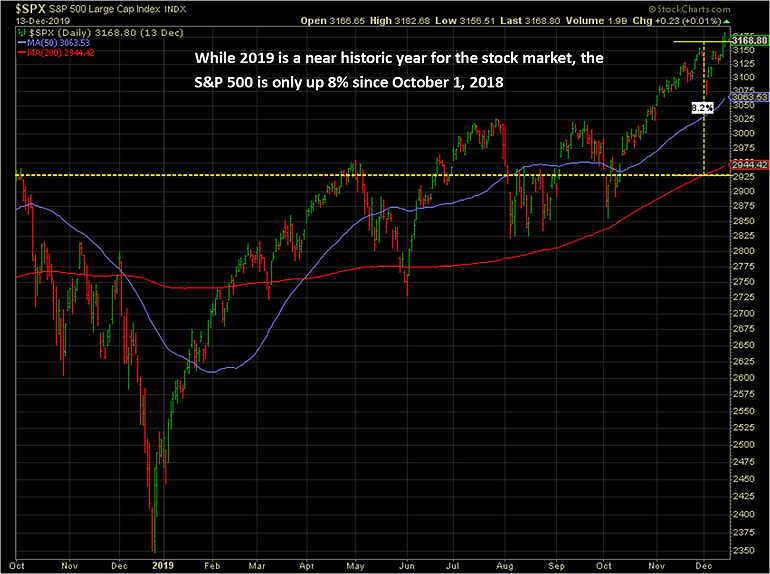 Even more interesting is how narrow this "great" stock market rally has been. In a healthy economy/market, small cap stocks should be outperforming large caps. Instead, we see that for the past 15 months small cap stocks are DOWN.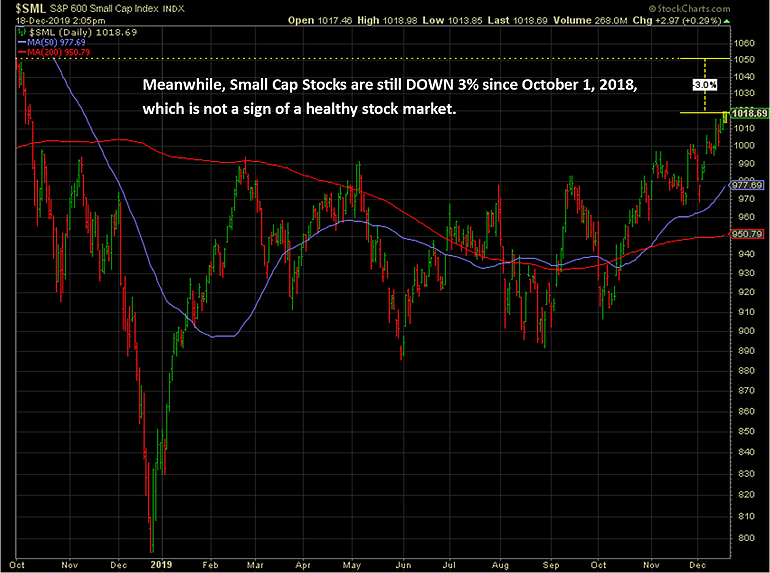 This doesn't mean 2020 cannot be a strong year for stocks, but the excitement we are seeing always raises concerns. At SEM we have a Plan for All Markets and are aware Your Starting Point Matters. 2019 has been one of the more rewarding years in our history. The value of our diversified approach where we have three distinct investment management styles has been obvious. Each has performed as expected, leaving our clients in a position where they don't have to chase the returns of the stock market at a time where the risks of a significant drop are quite high.