Throughout the Bible there are a plethora of examples of prayer. Prayer is our way of communicating with God and growing our relationship with Him. It's a way to worship Him. As Christians, we need to make sure we're not neglecting our prayer life. It's something we should continually work on. If I'm being completely honest, I've neglected prayer in my life. I'll go to God for bigger things, but won't pray consistently. For any relationship to grow, communication is needed. Reading the Bible is the way God communicates with us, and prayer is how we communicate with God. You don't want your relationship to be one sided by only doing one or the other!
For the month of May, the Wednesday in the Word posts on our social media pages (Facebook and LinkedIn) are focused on prayer. One of the most important things I want you to remember when it comes to prayer is that God is way more interested in our hearts when we pray than the specific words we use. Focus on your heart behind it and not having some perfect, eloquent, well-spoken prayer. This is something I have been specifically working on. I love looking at the way Jesus prayed as an example of how I should be praying.
Jesus' Example
We should strive to become more and more like Jesus every day. In all areas of our life we should be looking to Jesus as our example – this includes prayer.
Jesus faced deep sorrow and distress leading to his crucifixion. During this time He prayed. "And going a little farther he fell on his face and prayed saying, 'My Father, if it be possible, let this cup pass from me; nevertheless, not as I will, but as you will.'" (Matthew 26:39)
We should be surrendering to God. Coming to God in humility and complete honesty.
In Jesus' final prayer (See John 17), He doesn't just pray for himself. He also prays for His disciples and other believers, including us today.
Besides looking at Jesus' specific prayers, He teaches us how to pray through the Lord's Prayer found in Matthew 6. This is a good outline to use when you pray. I'll break it down into several parts below. I want to remind you that your heart behind the prayer is what's most important – you don't need to recite the Lord's prayer to have a "good" prayer. I actually want to warn you to not follow a specific formula every time you pray. Although it's a helpful tool to work on your prayer life, it can be so easy to become legalistic and lose the heart behind prayer.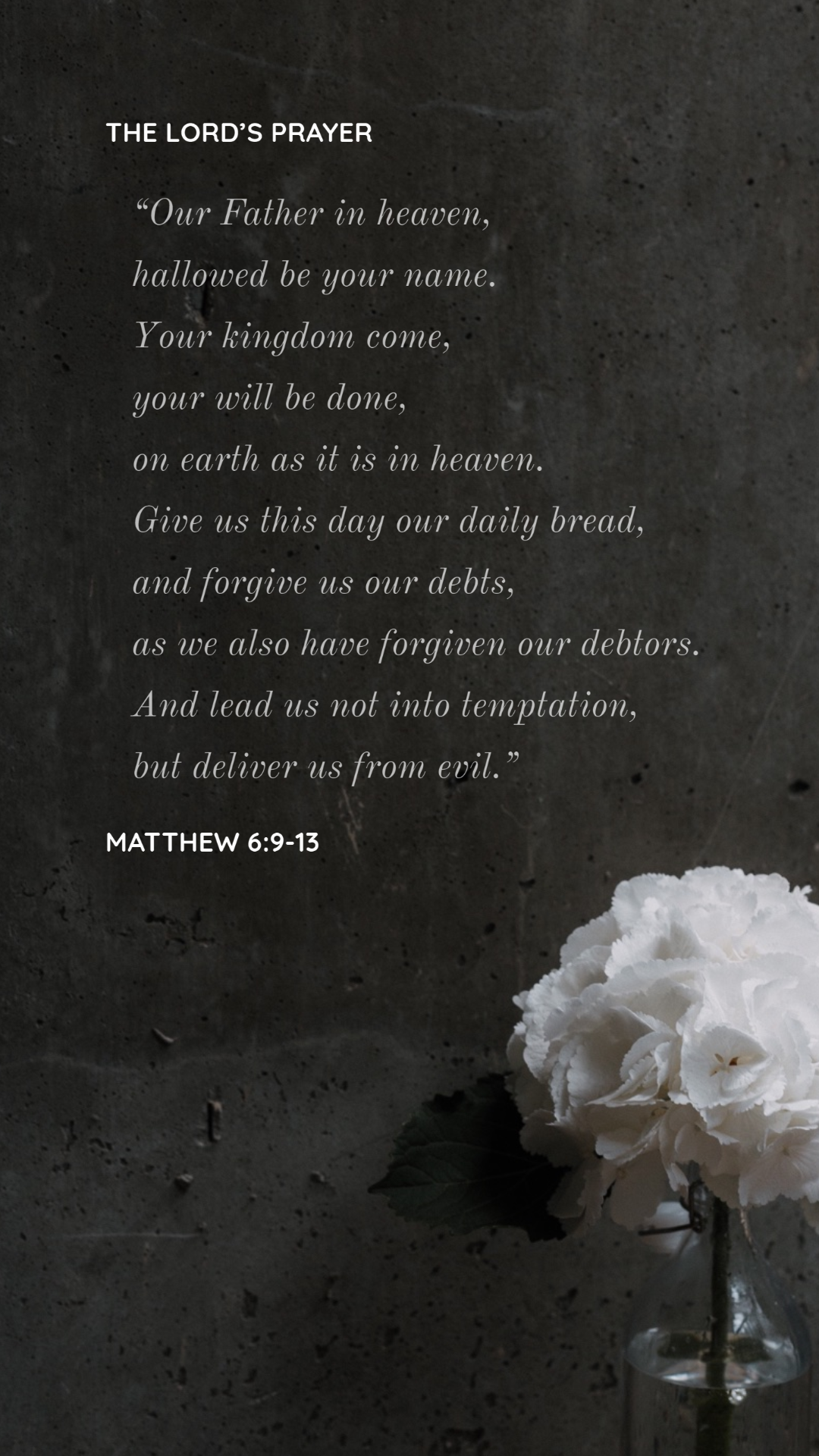 Praise / Worship
"Our Father in heaven, hallowed be your name"
Praying to God as "Our Father" recognizes the authoritative, loving, and intimate relationship we have with Him. We should praise and worship Him because He is holy. God's holiness is utterly unique and infinitely pure. In 1 Samuel 2:2, we can see Hannah recognizing the uniqueness of God's holiness in her prayer: "There is none holy like the LORD; for there is none besides you; there is no rock like our God."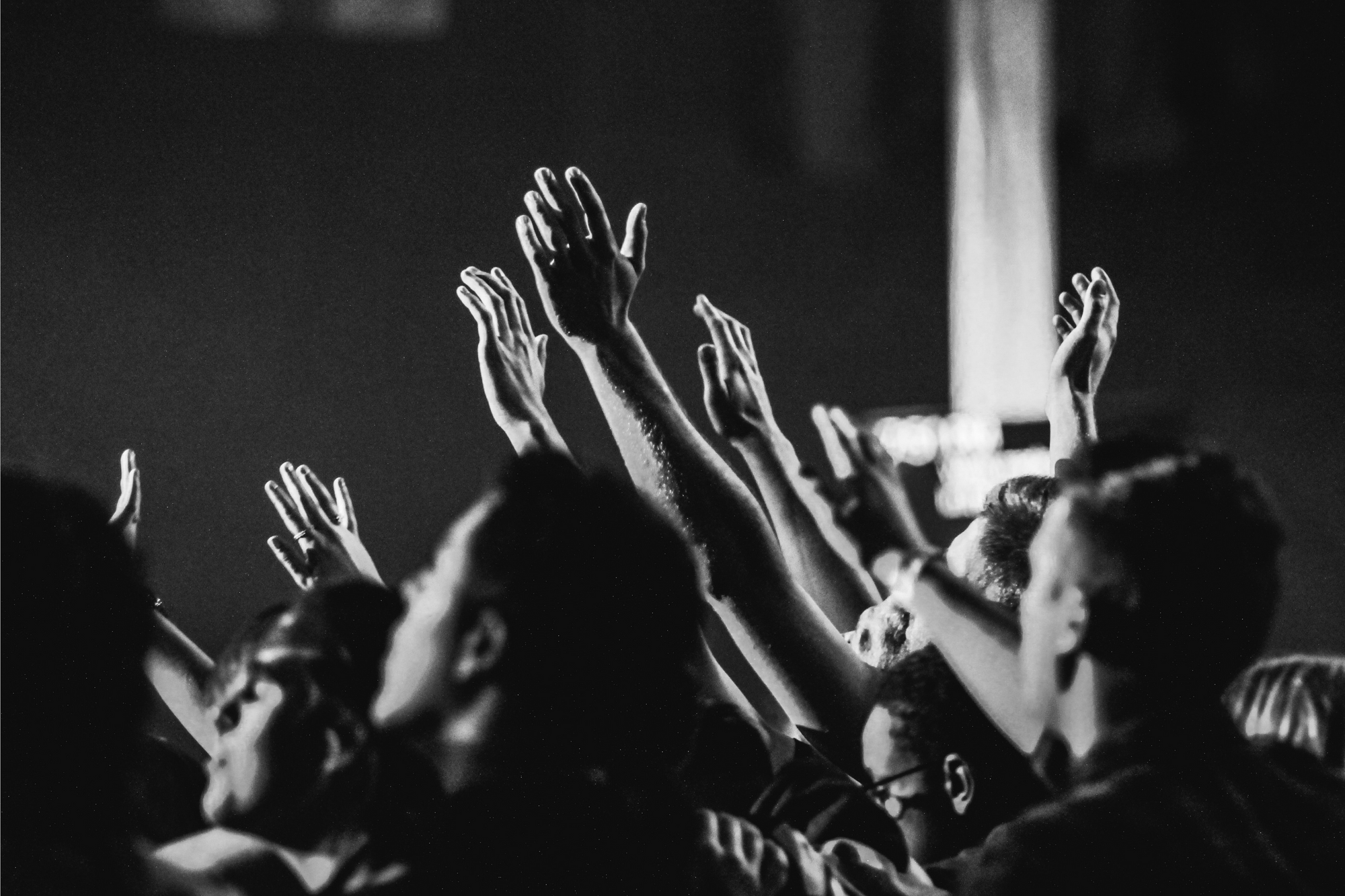 When we pray, we should be recognizing God's holiness and worshipping Him! Here are some examples of prayers worshiping God:
Hezekiah's prayer:
"O LORD, the God of Israel, enthroned above the cherubim, you are the God, you alone, of all the kingdoms of the earth; you have made heaven and earth." - 2 Kings 19:15
Here are two examples of David worshiping God through prayer:
"There is none like you, O LORD, and there is no God besides you, according to all that we have heard with our ears." - 1 Chronicles 17:20
"I give thanks to you, O Lord my God, with my whole heart, and I will glorify your name forever. For great is your steadfast love toward me; you have delivered my soul from the depths of Sheol." - Psalm 86:12-13
God is graceful, merciful, faithful, loving, loyal, compassionate... I can go on and on! These are just some of the attributes of God we should be praising. Each time you pray, I encourage you to praise God for who He is!
God's will be done
"Your kingdom come, your will be done, on earth as it is in heaven."
Our goal in this life is to glorify God and build up His kingdom. When we pray, we should be praying for God's plan in our lives and the world, not our own plan. God isn't some genie, and prayer isn't the way we make our wishes to Him. When we come to God in prayer we need to check our motives behind it. It's okay to ask God for things that we want in life, but recognize that it might not align with God's will.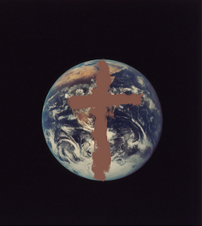 James 4:3 talks about our motives: "You ask and do not receive, because you ask wrongly, to spend it on your passions."
"And this is the confidence that we have toward him, that if we ask anything according to his will he hears us." - 1 John 5:14
An example of prayer that is pleasing to God is prayer for wisdom and discernment. Solomon does this in 1 Kings 3:9-12a:
"'Give your servant therefore an understanding mind to govern your people, that I may discern between good and evil, for who is able to govern this your great people?' It pleased the Lord that Solomon had asked this. And God said to him, 'Because you have asked this, and have not asked for yourself long life or riches or the life of your enemies, but have asked for yourself understanding to discern what is right, behold, I now do according to your word. Behold, I give you a wise and discerning mind…'"
Our prayers should be focused on Jesus' priorities, not our own worldly desires.
Supplication for ourselves and others
"Give us this day our daily bread, and forgive us our debts, as we also have forgiven our debtors."
Another part of praying is asking God for the things we need -- understand we can't live life on our own. We need to be trusting and dependent on God. Do you consistently pray to God about your daily necessities? It's easy to take for granted having a roof over your head, food to eat, clean water, etc. but it's important to realize that we have these things because of God.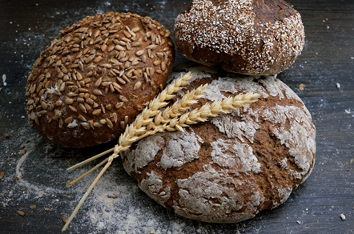 In Exodus 16, God provided manna for Israel. This passage shows both God providing for their physical needs and teaching them to rely and trust Him.
The "debt" discussed in the Matthew verse is talking about our sin. Our debt has been paid or forgiven through Christ's death. The last part is probably one of the hardest parts of the prayer -- forgiving others. It can be so easy to be resentful towards others who have wronged us. But we're told here to forgive.
Mark 11:25 says, "And whenever you stand praying, forgive, if you have anything against anyone, so that your Father also who is in heaven may forgive you your trespasses."
Is there someone in your life that you're struggling to forgive? I encourage you to go to God in prayer about it!
Strength for dealing with temptation
"And lead us not into temptation, but deliver us from evil."
We're going to be tempted. The Bible is very clear on that. The beginning of temptation can be found in Genesis 3 when Satan tempted Eve in the Garden of Eden. Even Jesus was tempted (see Matthew 4).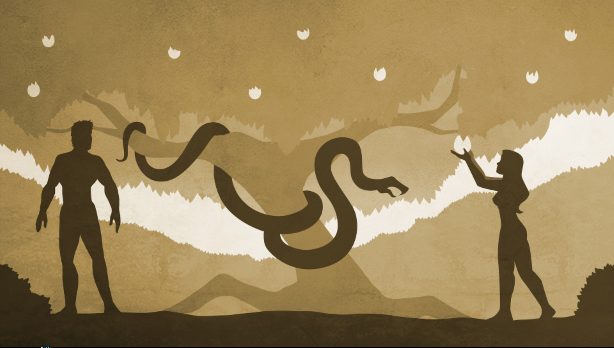 "Put on the whole armor of God, that you may be able to stand against the schemes of the devil. For we do not wrestle against flesh and blood, but against the rulers, against the authorities, against the cosmic powers over this present darkness, against the spiritual forces of evil in the heavenly places." - Ephesians 6:11-12
"Be sober-minded; be watchful. Your adversary the devil prowls around like a roaring lion, seeking someone to devour." - 1 Peter 5:8
We need to humble ourselves and recognize that we will be tempted. Then we need to pray to God and ask for the strength to overcome that temptation. 1 Corinthians 10:13 says, "No temptation has overtaken you that is not common to man. God is faithful, and he will not let you be tempted beyond your ability, but with the temptation he will also provide the way of escape, that you may be able to endure it." Have you asked God for the "way of escape" from your temptation, or have you been trying to fight it alone?
Answered Prayers
Have you had times where you've prayed for something and feel like God isn't actually listening? We know He hears our prayers, but sometimes we don't recognize His answers (or we just don't like the answer He gives.) Whenever you ask for something there are three possible responses: yes, no, wait/not yet. The most difficult response for me is wait/not yet. I can blame Amazon Prime for my lack of patience. Our society has gotten so used to wanting something, ordering it online, and having it the next day (or a couple days later.) The key point here is to not stop praying. It can be difficult when you feel like God doesn't hear you, but He does. Sometimes we're the ones not listening to His answer or we don't like His answer.
Prayer is an important part of the Christian life. We need to make sure we're not neglecting it in our lives. Regular communication with God helps us build a stronger relationship with Him. Throughout this month, we're going to continue to share more on prayer and challenge you each week on our social media pages. If you have any specific prayer requests, please reach out to me and I'd be happy to pray for you!
National Day of Prayer
The National Day of Prayer is on Thursday, May 6th. This year, the theme is built around the verse 2 Corinthians 3:17: "Now the Lord is the Spirit, and where the Spirit of the Lord is, there is liberty." Read more about this year's theme here.
---
Cornerstone Impact Update
Each month we want to highlight what some of our BRI partners are doing. Below you'll find two recent articles and a video from our BRI partners, Eventide and Inspire.
Eventide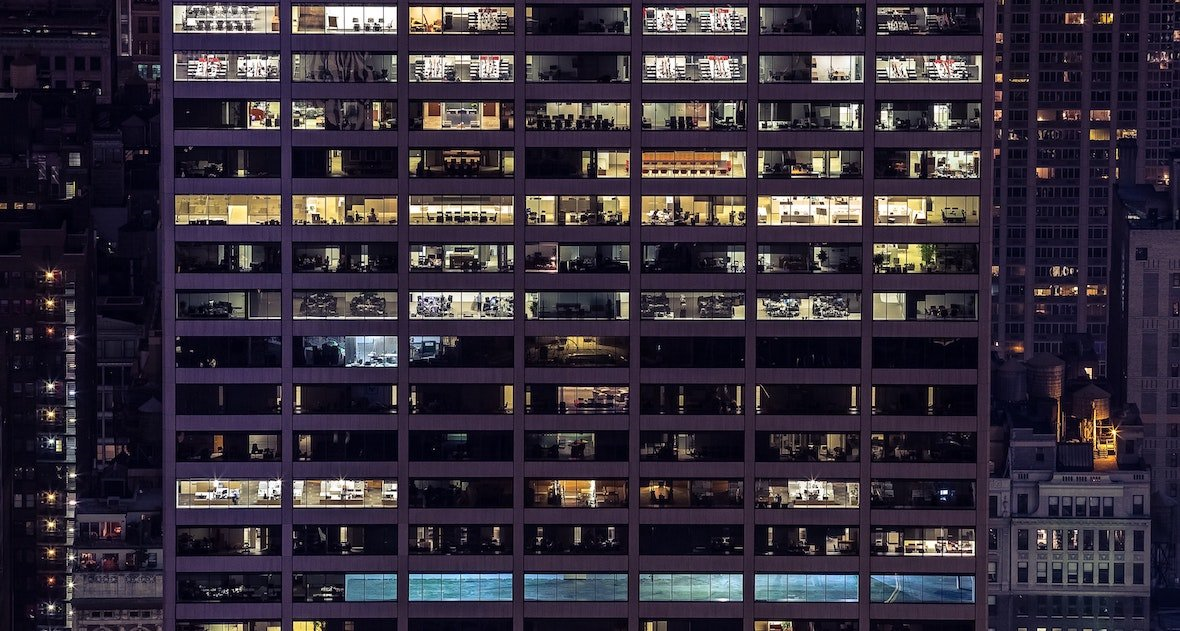 Have you ever wondered how norms become normal? How did something like smoking cigarettes go from being encouraged to discouraged overtime? Societal norms aren't set by one person. The changes are made by collective actions of many individuals. Our actions with our investments also either encourage or discourage specific behaviors. Read more about this in a recent article by Eventide's Shaun Morgan.
What does it mean when you say "investing is ownership"? Finny Kuruvilla, Eventide's CIO and Portfolio Manager, explains the three dimensions of this phrase – financial, leadership, and ethical responsibility in a recent video. Watch the short video here.
Inspire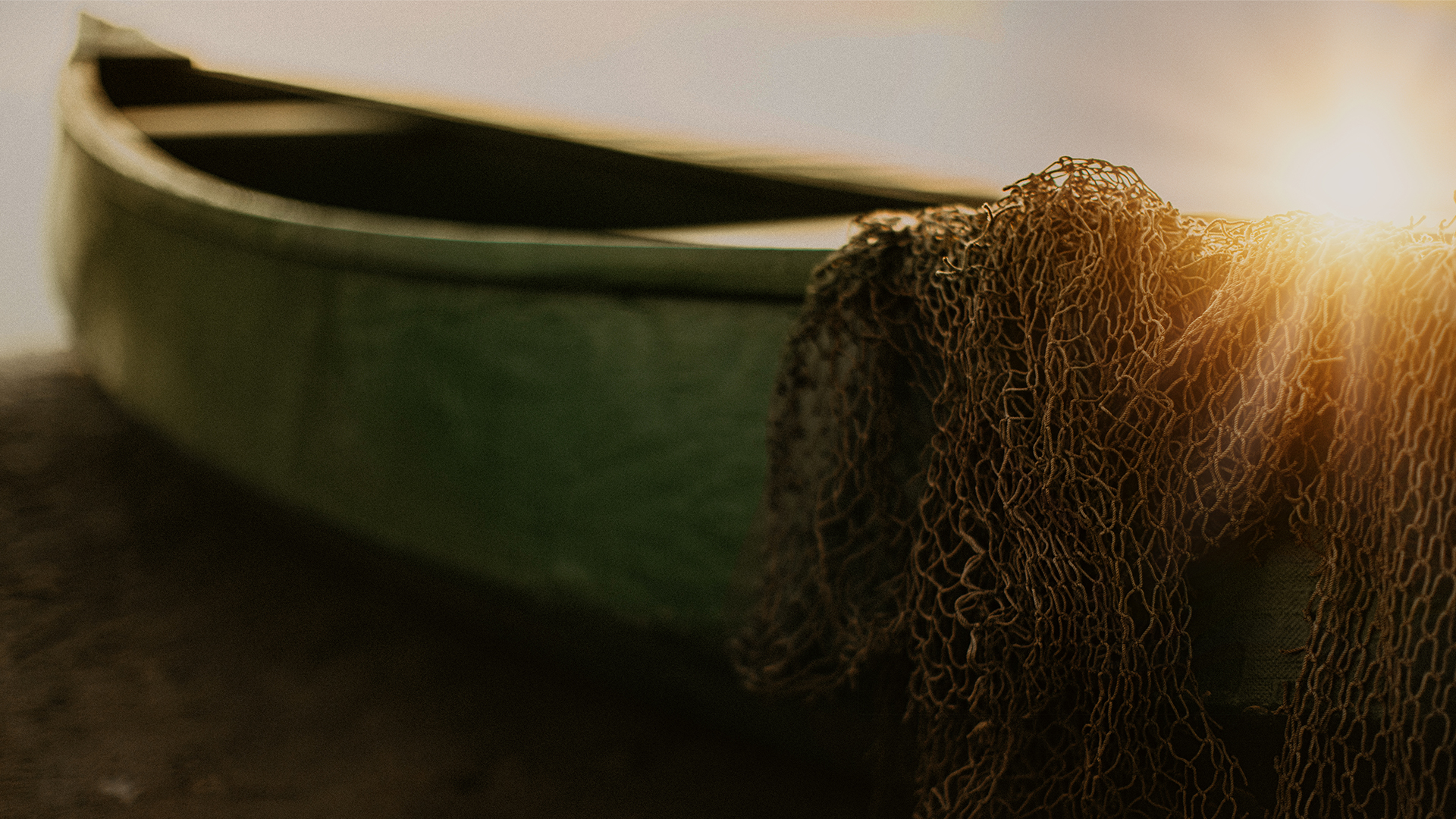 A question often asked by people considering switching to biblically responsible portfolios is this: "Will I have to sacrifice performance if I switch my portfolio to biblically responsible investing?" One way to answer that question is to show the track record of BRI funds; however, Inspire Investing's CEO, Robert Netzly answers this question from a different perspective based on two passages in the New Testament. See how Matthew 4:18-22 and Luke 18:22-24 help answer the above question.
---
If you have any questions or would like more information on how to align your investments with your faith, please contact me. You can also learn more about the Cornerstone Portfolios at: SEMWealth.com/Cornerstone.
We have also created a free multi-session financial workshop, "A Biblical Approach to Finances." If you're interested in learning more, fill out the interest form here.