We were built for this
Over the past several weeks we've discussed how all of the SEM Models have been doing their jobs as the market panics about the impact of COVID-19. Our behavioral approach not only helps advisors and investors overcome their natural emotional and cognitive biases, but it also allows SEM to make investment decisions without emotion. The sense of calm around our offices is something we wish everyone could experience at times like this. Whatever happens next, we have a plan.
What we haven't highlighted is our operational back-up plans. We are well prepared for this. As a reminder, we have two offices in Virginia and Arizona. All trading operations can (and are) run from either office by multiple employees. Every key team member already has a laptop so if needed they can work from home.  We utilize cloud servers and work in a "virtual" environment. This includes internet based phones that allow us to operate from anywhere we have a connection. I've worked from all kinds of places the past 20 years. Since we brought Dustin on board full-time as Director of Technology the remote experience has been exceptional.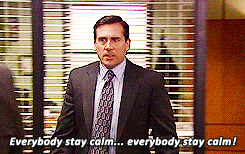 In addition, Rick, Steve, and I have full trading set-ups in our homes (big monitors, fast internet, etc.). Since I joined in 1998, all 3 of us have had this set-up. It's a nice contingency plan, but all of us tend to work nights and weekends, so it's a lot easier to do from the comfort of our homes. If needed, all trading can happen from any of those locations as well as at Cody's home.
[As a side note, part of our behavioral approach is making sure everything is mechanical. This means if something happens to any of the portfolio management team members, everything continues as normal. You're not trusting me (or Rick or Steve or Cody) to manage the money, you're trusting the systems we have all developed together.]
We've already discussed contingency plans if necessary. Our Virginia office is in a rural area and all of our Virginia staff lives in the area, so we already have a nice buffer. If needed, Brandi and I could work from our New Kent office and have the rest of our team working from their homes (we live 5 minutes down the road). We have tested our "disaster" contingency plans a couple of times in the past year. This one is really easy for us to plan for.
E*Trade Advisor Services being located in Denver has also had to implement their "disaster" back-up plans on at least 5 snow days in their area. This includes the vast majority of their operations people being equipped to work from their homes.
We have you covered. Whether it is where/how to invest, needing to add/remove money from your account, or just needing somebody to talk to, SEM is ready. Your job is to take care of yourself and your family and know better times will be ahead.