When we are facing uncertainty, our brains are prone to using heuristics, or mental short-cuts to help us make decisions. These short-cuts are full of various biases that influence how we look at specific situations. There's nothing wrong with that. It's what makes us human. The best way to overcome these natural human traits is to focus on data.
Since January when we first started hearing about this thing called Coronavirus, I've turned to data as well as some specific scientific experts and sources to help us get a better understanding of the most uncertain environment I've faced in my lifetime.  One of those experts is Dr. Finny Kuruvilla. In our office we call him the "double doctor" as he has an MD and PhD. He is the Chief Investment Officer for Eventide funds, one of our core Cornerstone partners. His resume is the most impressive I've seen for any of our portfolio managers:
Concurrent with Eventide, from 2008 through 2016, he was a Principal at Clarus Ventures, a leading healthcare and life sciences venture capital firm. Prior to joining Eventide, from 2005-2008, Dr. Kuruvilla was a postdoctoral research scientist in medical genetics at the Broad Institute of Harvard and MIT. From 2003-2007, Dr. Kuruvilla was resident, chief resident, and clinical fellow at the Brigham and Women's Hospital and Children's Hospital Boston. He holds an MD from Harvard Medical School, a PhD in Chemistry and Chemical Biology from Harvard University, a master's degree in Electrical Engineering and Computer Science from MIT, and a bachelor's degree from Caltech in Chemistry.
Throughout the pandemic Dr. Kuruvilla's assessments have given us a sense of hope and peace that we will get through this. He recently posted his 5th update on the Coronavirus. You can watch the full 20 minute presentation here. I've also provided highlights below.
Click on the time in ( ) to jump to that portion of the video
Number of Cases and Deaths
Like me, Dr. Kuruvilla has been using data from the Covid Tracking Project. We acknowledge the data is not perfect, but it does show us the trend. He also normalizes the data by focusing on the percent positive tests rather than the number of cases. It helps put things in perspective. This is something we've been doing since the outset and continue to update periodically.
Dr. Kuruvilla also highlighted how deaths are a lagging indicator and the rate is on the decline.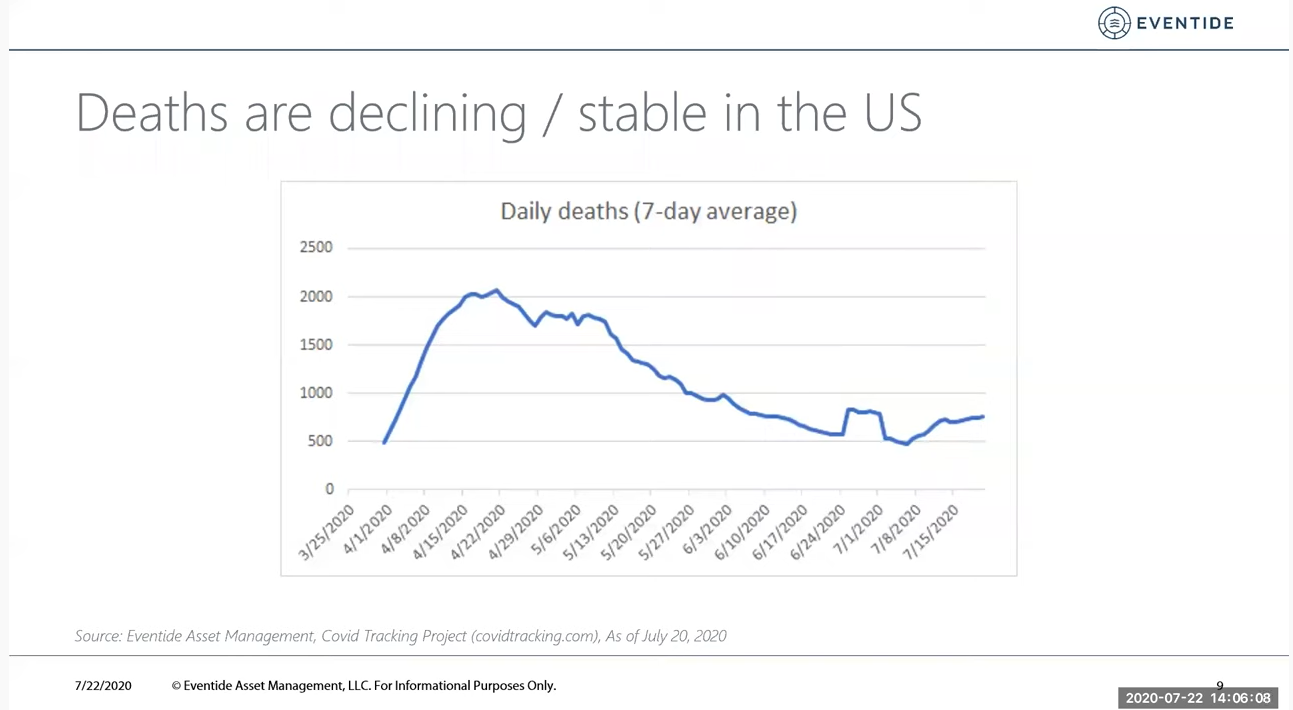 Improvements in Treatment
I've said from the outset we have just been buying time. Doctors and scientists have learned so much since January and have continued to improve the way they treat patients which has cut down the number of deaths by a wide margin. Dr. Kuruvilla highlighted some of those in this segment.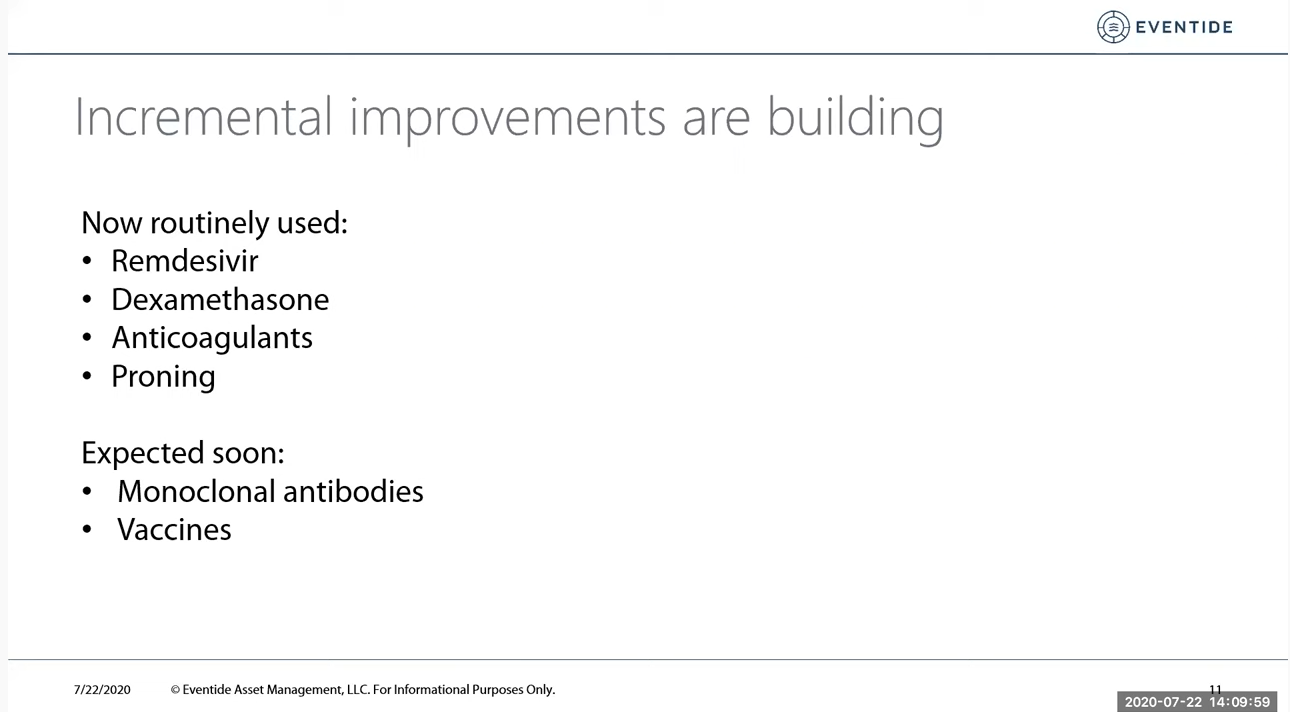 How the Virus Spreads
Scientists and researchers have also learned how the virus spreads. It is not often through contact with hard surfaces, but close-up contact with other people for extended periods.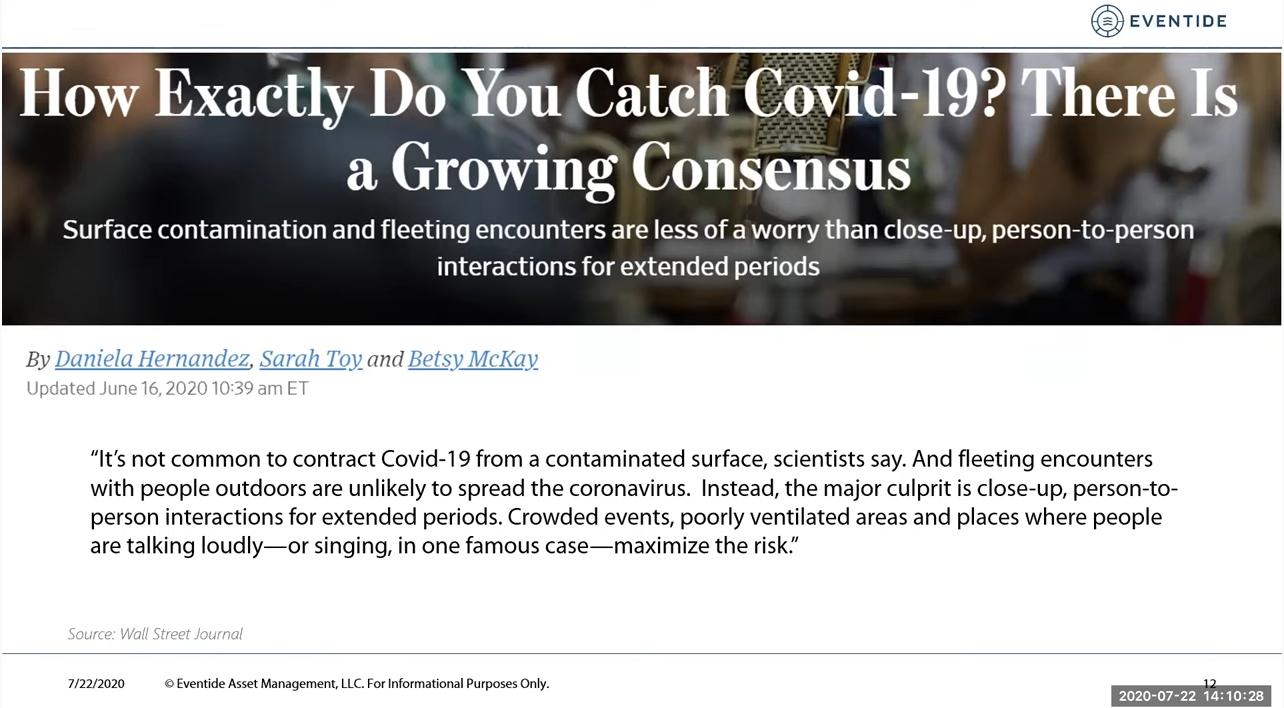 The Science of Masks
Knowing how the virus spreads leads to what is surprisingly has become quite controversial – whether or not to wear a mask. In this segment he walks through the reason we should wear masks, when we should wear them, and whether or not the person wearing the mask can be harmed.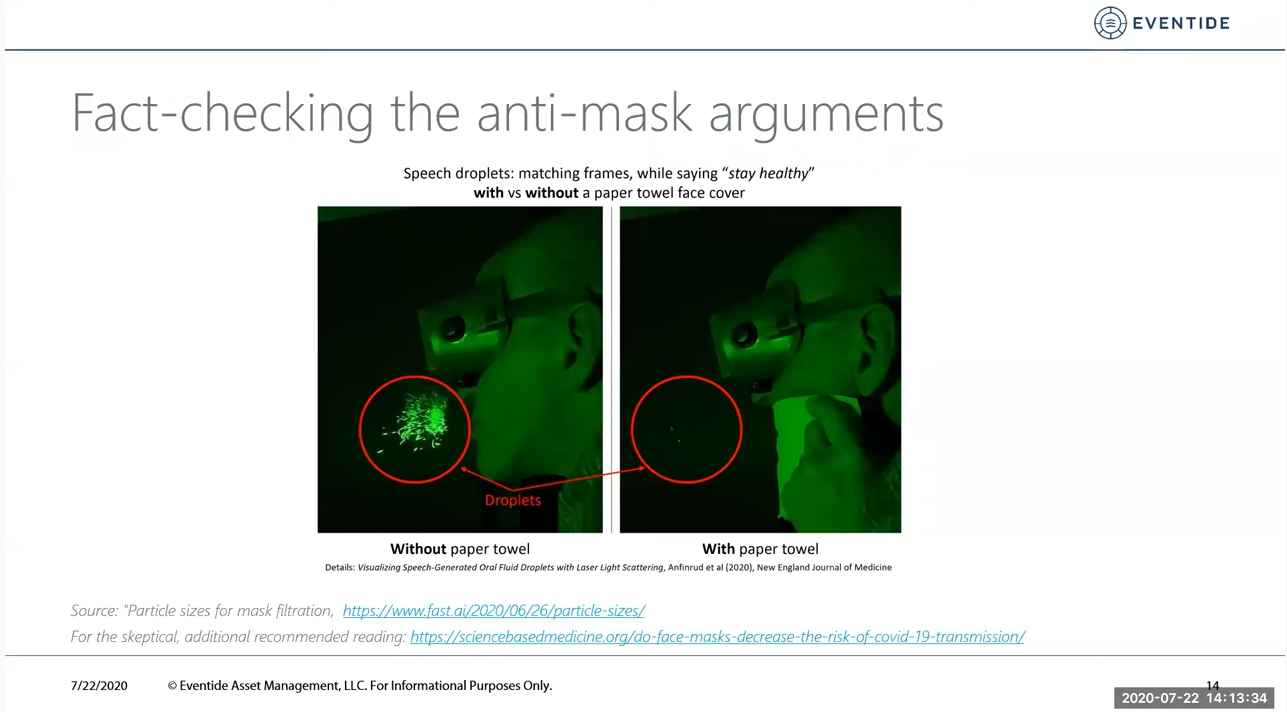 Understanding the Vaccines
There has been a lot of talk about vaccines. Most economists agree we will not see a full economic recovery until we get a viable, widely distributed vaccine. This section of Dr. Kuruvilla's presentation is probably the most detailed, yet easy enough to understand discussion of the various vaccines and how they function (they aren't all the same).
There is reason for hope, but also reason to not use all of these positives to become complacent. We all need to do our part to buy enough time for the scientists, doctors, and researches to beat this thing.

As you can see, having a company like Eventide as part of our Cornerstone portfolios is a tremendous benefit to SEM, our advisors, and our clients. With Dr. Kuruvilla running their investments, their approach to Biblically Responsible Investing follows the same data-driven, scientific process SEM has always advocated. To learn more about our Cornerstone Models and how we incorporate Eventide and our other BRI partners, click here.
You can also check out how our Cornerstone Models are making a positive impact in our world each month in our Cornerstone Impact blog:
For more on how our brains process information see: