The economic recovery should be back in full force with anybody who wanted to be vaccinated already receiving their vaccinations, the CDC essentially saying those who are vaccinated can do whatever they want, the number of new COVID cases at very low levels, and pretty much every state fully lifting restrictions. Nearly every facet of the economy is coming back in full force except for the number of people working.
I don't want to get political about the reasons behind this. Yes, there are some people who see no reason to come back to work because they can make nearly the same on the extended unemployment benefits as they could working in entry level jobs. There are also plenty of parents who simply cannot get back to work full-time because schools are not fully reopened, day cares have limited capacity, and summer camp choices are much smaller than usual. We are fortunate enough to have 8th graders who can somewhat do virtual school without (full) parental supervision and the office space for them to use for school. We also do not NEED summer camps or child care to work like many parents do. There are also people who have used their loss of employment and the increased government assistance to return to school in order to gain different skills. This is something our economy desperately needs.
The bottom line is, we cannot assume everybody's situation. I'm sure the academics will study this era in the coming years and come to some sort of conclusion that it was a mixture of all of the above which caused the slow return to work.
Enough subjective speculation. Let's look at the data from last month's payrolls report. 52% of the "new" jobs added in May were in the lowest paying segment – Leisure and Hospitality. The next highest category was Education and Health Services, which pays just below the national average wage.
The number of jobs remains at 95% of the peak in February. For reference, I added the number of months it took for a full employment recovery following the last two recessions.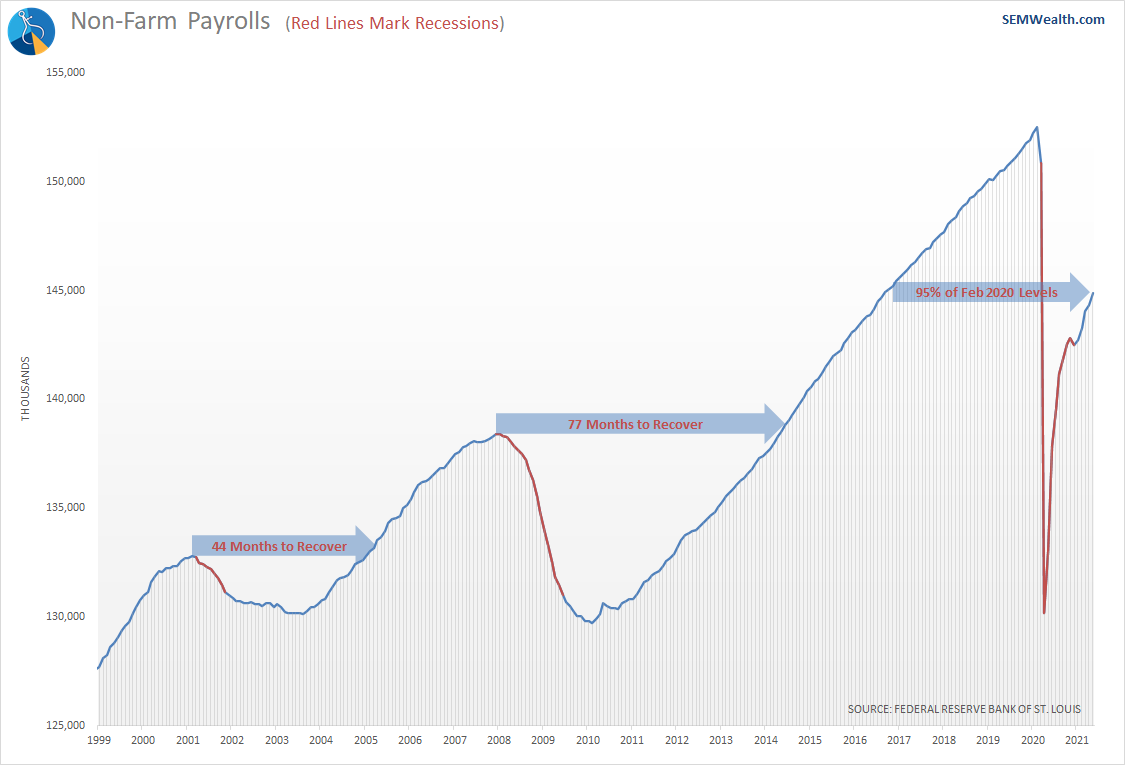 I said this from the outset of COVID, but it is likely we have seen a permanent shift in the economy to something different. I don't know what those new supply/demand curves look like yet, but the pandemic changed many Americans' attitudes towards what is important. At the same time, businesses and employees were required to make rapid adjustments. Some of those adjustments, such as virtual work, increased use of technology, and how we spend money are likely to change the dynamics of our economy going forward.
For instance, our neighbor owns the restaurant next door to our office along with 4 others. He survived the pandemic thanks to quick shifts in menu offerings and services, shutting down some of the smaller restaurants on the slower days and times, and adapting to new technology. We ate there in person for the first time a few weeks ago. He told me he has struggled to find any staffing, so he added "toast" software to his restaurants. Now customers scan a QR code at their table, enter their orders and then wait for the delivery. This allows one server to handle 3-4 times the number of tables. They deliver the drinks and keep them filled while the kitchen delivers the food. The food was more fresh and delivered faster than before the pandemic. This also allows them to offer more efficient carry out service. I'm sure there are thousands of stories like this across the country.
My opinion is just as we did in 2008, we have permanently lost hundreds of thousands of jobs and our economy will need to adjust. The government has filled the income gap with trillions of dollars, but that is not sustainable long-term. Costs are going up for businesses who are attempting to pass them on to consumers. It will be interesting to see what happens this fall when the economy, including schools, are fully reopened at the same time the extended unemployment benefits are set to expire. There will also be just 3 months left in the expanded monthly child tax credit payments (which start July 15).
For now, our economic model shows continued strength over the coming months, although if you look closely at the 36 Month Trend in our dashboard you can see several of the indicators have stalled.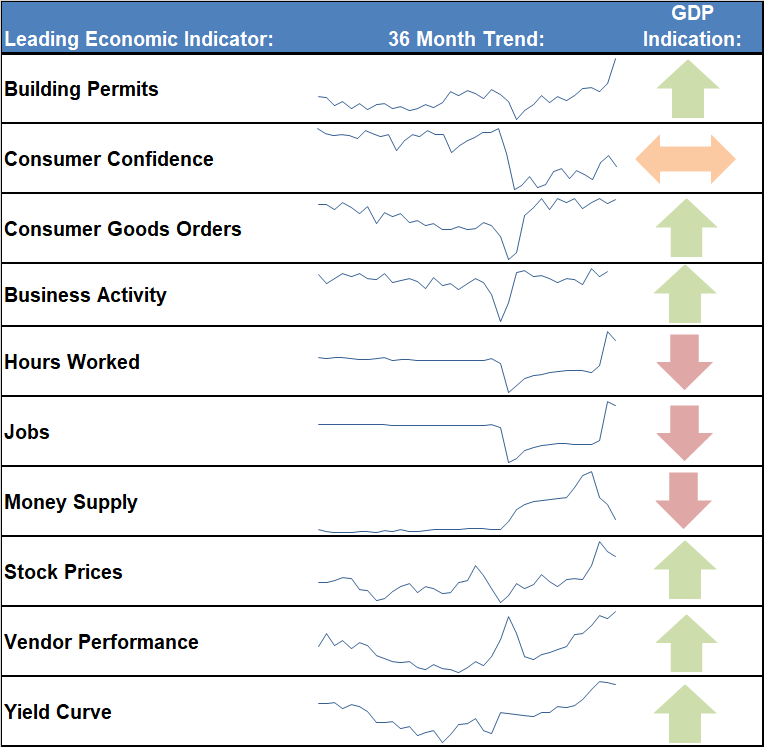 I know it seems strange to say – our economic model has never had a stronger reading, but I would be EXTREMELY cautious taking this as an all-clear sign for your buy & hold investments.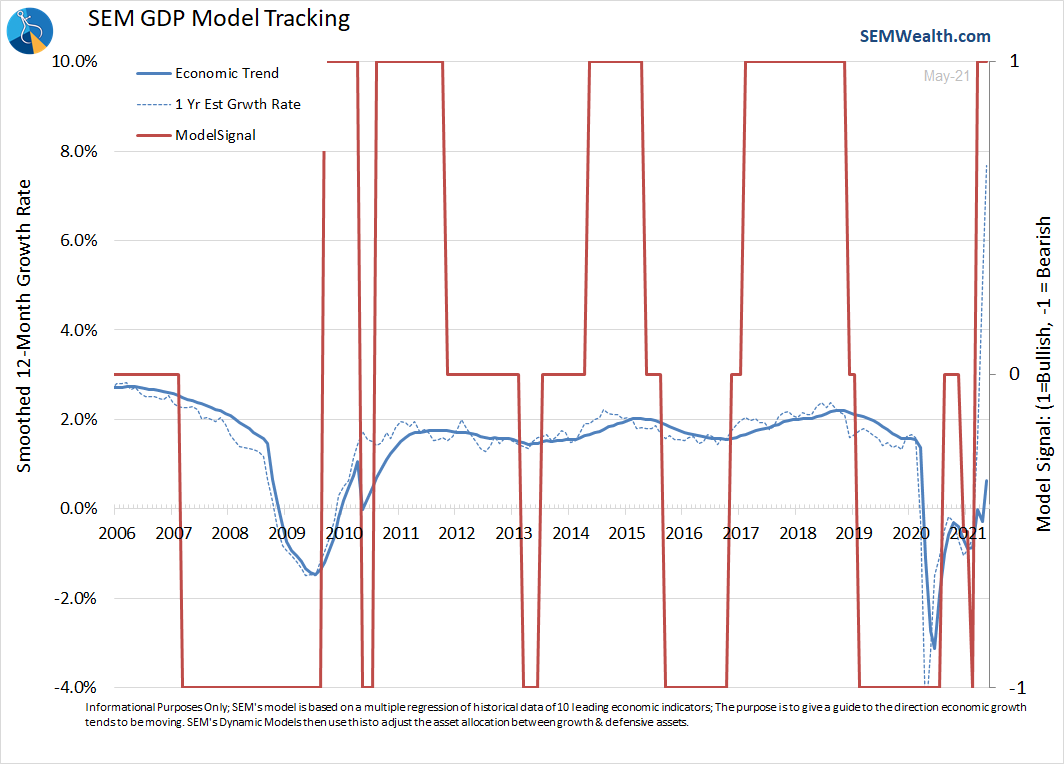 Our economy was broken before COVID, and it's likely many more areas were permanently impaired during the pandemic. This may be a good thing long-term, but with stocks close to all-time highs, a perfect growth scenario is already priced in. We've seen a parabolic move off the lows. The question is what will be the next catalyst to move the market even higher.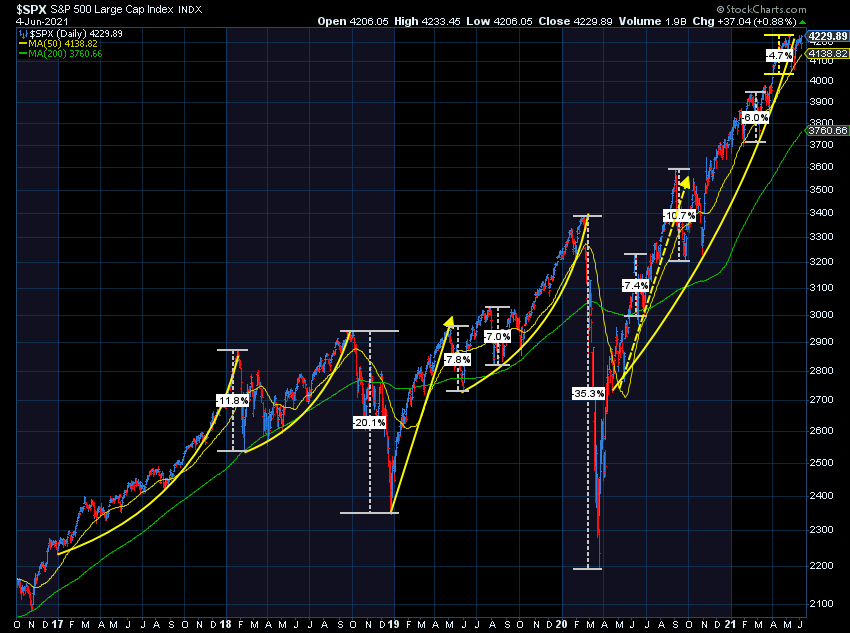 Over the past month, the market has been digesting the move. Short-term it can certainly breakout. The market moves on emotions and I don't know many people who don't feel good right now as we get back to a semblance of normalcy heading into the summer. This could drive stocks higher temporarily.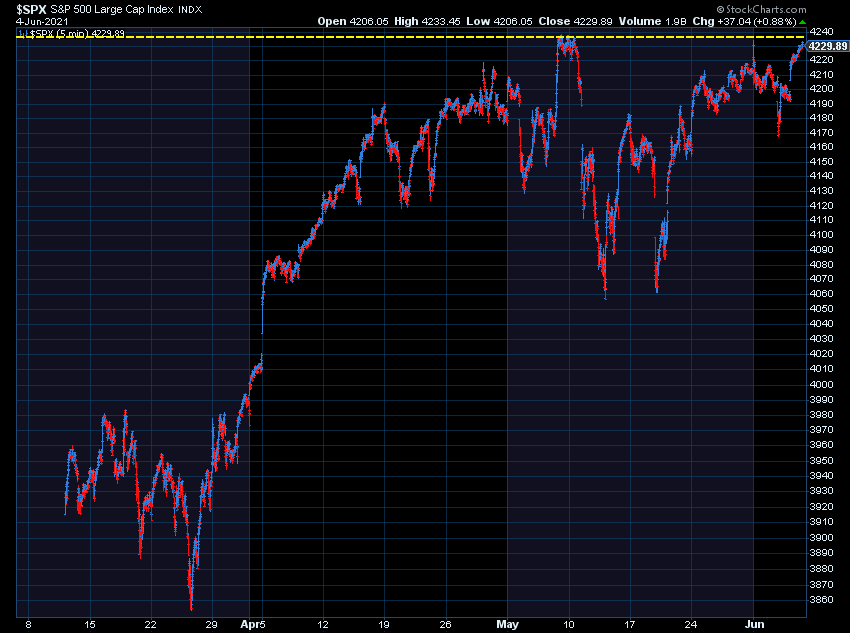 For our part, other than Enhanced Growth Allocator, which locked in its strong 1st quarter and has been sitting with just 20% equity allocation for the past month and a half, we remain at or near fully invested across the board in all models. Remember, these are short-term positions which are monitored daily. I've done this for a couple of decades and know the most dangerous position is when everybody is confident in the future.
Things can change rapidly.
Be ready.