Back in April, I wrote an article going deeper into the first of the three BRI mandates: avoid. This month I want to briefly discuss more on the embrace mandate. Embrace is seeking to own companies that align with your values. In Biblically Responsible Portfolios, they seek companies that are serving and value the life of your neighbor. This goes hand-in-hand with the avoid mandate. We have the companies we do NOT want to invest in, and with that, we have the companies that you DO want to invest in. These companies include those who have fair employment practices, lifesaving medical research, clean energy, etc. The tricky part in this is finding companies who have values such as the ones mentioned above while not engaging in things like tobacco/alcohol, LGBTQ activism, poor work environment, etc.
Inspire Insight is a screening tool we use. It helps identify companies who are "best in class" in various categories. Inspire uses Truvalue Labs for their rankings. Here's a short summary from their website that explains how Truvalue comes up with the scores:

I'll walk through a few examples (positive and negative) of what Inspire Insight looks like when you search different companies. The first one we're going to look at is Costco. This is an example of a company we would embrace because it has a positive score (41). Inspire Insight then breaks down the score with both the positive and negative categories – in this case, Costco doesn't have any negative items against them.

You can then look closer at the positive categories for the company: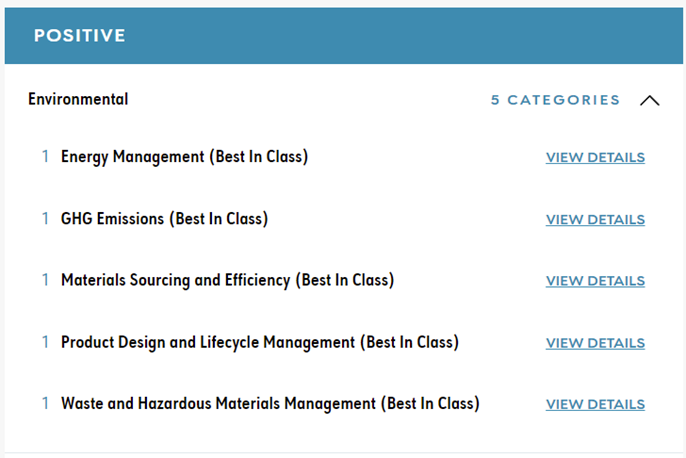 This screening tool also allows you to see what percentile it ranks in each category, based on Truvalue Labs. Here's an example of one of Costco's positive categories under "social":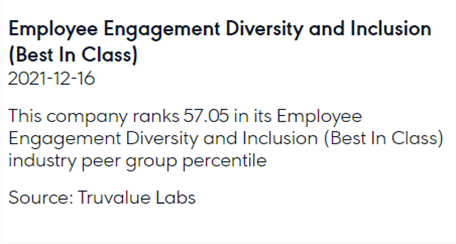 NovoCure is another company we embrace. They are a developer of a new cancer treatment; therefore, serving and valuing the lives of our neighbors. They have a higher score than Costco with 60. In the screenshot below, you can see they have less categories under environmental, social, and governance; however, they fall into a higher percentile in those categories which is why they have a higher score than Costco.

Some other top ranked companies we embrace include:
Nvidia (maker of integrated circuits used in pretty much everything we use): impact score of 45
Align (maker of Invisiline): impact score of 44
First Solar (maker of solar panels): impact score of 60
Now let's look at a company that has a negative impact score. I've chosen to look at Disney because they have several positive categories while also having major negative categories, which is why they have an impact score of -70: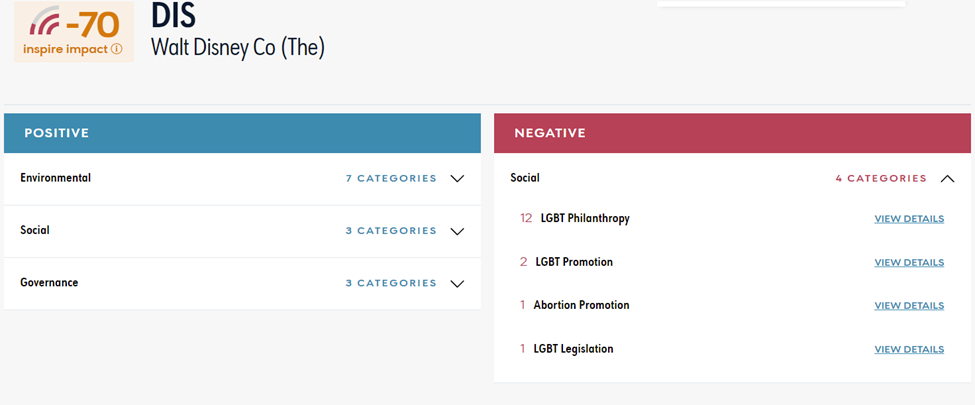 As you can see, the two major negative categories we seek to avoid in our BRI portfolios, LGBT and Abortion are both supported by Disney. Unlike the positive categories that are ranked by Truvalue, the negative side provides examples of the areas we're trying to avoid: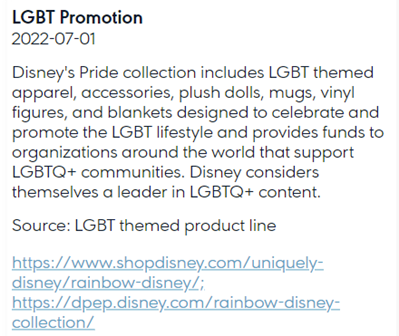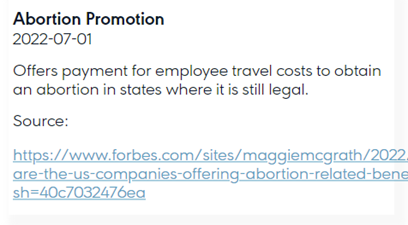 This isn't to say that companies with a negative impact score aren't doing some good. Disney scores pretty highly in some of the environmental, social, and governance categories; however, for BRI we still aren't wanting to profit from companies who don't have the same values as us.
I encourage you to mess with the Inspire Insight tool and look up some of the companies you're invested in to see if they align with your values. We understand that screening companies for your investment portfolios can be time consuming and complicated, but you don't have to do it yourself! If you're interested in seeing the scoring for your investment portfolio, reach out to us and we can help you do that. Knowing what you're invested in is the first step to take in creating a portfolio that you're proud to embrace!