As much as I tried to unplug over the weekend, it was tough to avoid all the Coronavirus news. It's also difficult to keep up since both LinkedIn and Facebook decide to filter our feeds by things they think are relevant, not in date order. Check the timestamps on any articles you're reading (and please click on the articles and verify it is from a reliable source). Better yet, do what our family has done and create a group chat with your friends and family and just stay out of the feeds. The memes are some good comedic relief. I have some of my favorite ones from our chat at the bottom of the page.
Here's what's on my mind this morning:
I was ready to start off with the fiasco in the Senate this weekend. Everything seemed to be progressing until Democrats read the legislation and realized half the package was a $500 Billion fund to be managed by the Treasury Department with very few rules. This is like the first draft of TARP in 2008. Even the final draft had more rules than the current bailout package. Why not strip out the $500 Billion and get the rest of the deal done and into the hands of small businesses, the health care system, and the individuals who need it the most?
Instead as I started writing, the Fed announced they will essentially buy and bond out there (somehow without Congressional approval). The rules are being re-written as we speak. The market skyrocketed on the news. Unprecedented doesn't even describe the long list of programs they just announced. I'd caution anybody believing this means we won't see defaults in the future. We're likely to see a major shift in the economy and how people spend money for years to come (if not for an entire generation). Never-mind that all this debt being put on the taxpayers balance sheet is going to drag down future growth rates significantly.
Last week I wrote, 'The Fed had to Act; It's Probably Not Enough'. In just 1 week they realized they had to pull out all the stops. I don't find comfort in that. I find it scary.
The Fed had NO IDEA how bad the financial system was. I wrote last week, 'The cracks are being exposed.' Included in that were links to some of the articles I wrote throughout last year highlighting the stress we were seeing in the financial system. This is like hiring a general contractor who's last 3 buildings collapsed to be the building inspector for the county.
I thought 2008 was the year capitalism died. Apparently it was 2020. Welcome to the world where businesses can cut wages, move all manufacturing overseas, pay obscene bonuses to their executives, get huge tax cuts, buyback stock and pay dividends to reward shareholders and then when they can't pay their bills the Federal Reserve will step in and lend them money. Another win for big businesses and Wall Street. Little guys who actually were good stewards of their money once again were hurt.
I'm not saying we don't need bailouts or the Fed to be the lender of last resort. What irks me is how nothing was done to fix the mess after 2008 and in fact we saw MORE leverage and LESS saving from businesses, the government, and consumers the last 10 years. Now the government and Federal Reserve is again rewarding the bad behavior by giving no-strings-attached bailouts. My only hope is this will usher in a new generation of leaders who will hold large corporations including the Wall Street banks accountable for their actions.
This isn't over by a long-shot. In case you missed it, here's a short video of how we recommend you handle the news flow.
In all things it seems those who were prepared for situations like this are the ones being punished. We stocked up on food, medicines, cleaning supplies, and paper products four weeks ago when the CDC first mentioned how bad this could get and to be prepared. Now with 13-year old twin boys in the house for the second week we are forced to go out and buy more food. Of course that means not only being out where other people are/have been, it also means making the choice of buying a bunch of food so we don't have to go out again or buying small amounts and having to go back out again.
Our monthly Amazon "subscribe and save" orders are also impacted. We get a month's supply of toilet paper, paper towels, cleaning products, and other miscellaneous household goods. We received an email from Amazon saying nearly all of those items will be delayed 'up to 4 weeks'.
Our church has live-streamed its services for 3 years now. They were ready for this. Unfortunately, most churches weren't. Their rush to come up with some sort of stream overwhelmed the servers yesterday morning, knocking most live-streams down (or preventing others from logging in). Thankfully our church was ready and had recorded a "dress rehearsal" and posted it as a back-up. (It was a great message on what we can do in these stressful times. Click here to watch.)
This is similar to what we are seeing at SEM. As we mentioned in 'we were built for this', our company has had a "remote" infrastructure for two decades. However, we have seen all the other companies rushing to patch something together degrade some services. Like our church, because we've done this so much longer than others, we have plenty of contingency plans if needed.
Based on the parking lot of Lowes last weekend and some of the things I'm seeing on the Facebook feeds, not enough people are staying home. The sooner we comply, the sooner we can start rebuilding our economy.
Everyone keeps calling this a buying opportunity. I agree it WILL be a buying opportunity, but the best opportunities come when nobody wants to buy stocks. Sentiment has not confirmed we've reached that point yet. Stay patient!
At times like this we are reminded there is more to life than how much money we have. Our Cornerstone models are a way to do more with your money. We updated the website on Friday to include an introductory video. Check it out here. If you're an advisor, we also have the replay of our SEM University from last week discussing these models.
As I mentioned in the video last week, we have our buy lists ready and our other models are holding up just as we expected. The Fed's actions don't really change this. In fact, it could lead to people letting their guard's down and another round of panic selling in the fixed income market. Good bonds were hammered the last few weeks. Patience will be the key.
NASCAR gets the reward for most ingenuity. We tuned in Sunday afternoon to the start of the eNASCAR race. It was more out of curiosity. We couldn't tear ourselves away from it. The twins were into it, Brandi was enjoying it, and we watched the entire race. It was a welcome distraction.
Looking at stocks, 2375ish on the S&P would be a good level to get through. It not only would get the market back above the lows of December 2018, it would also finally break the 15 day downtrend on the 5-minute chart.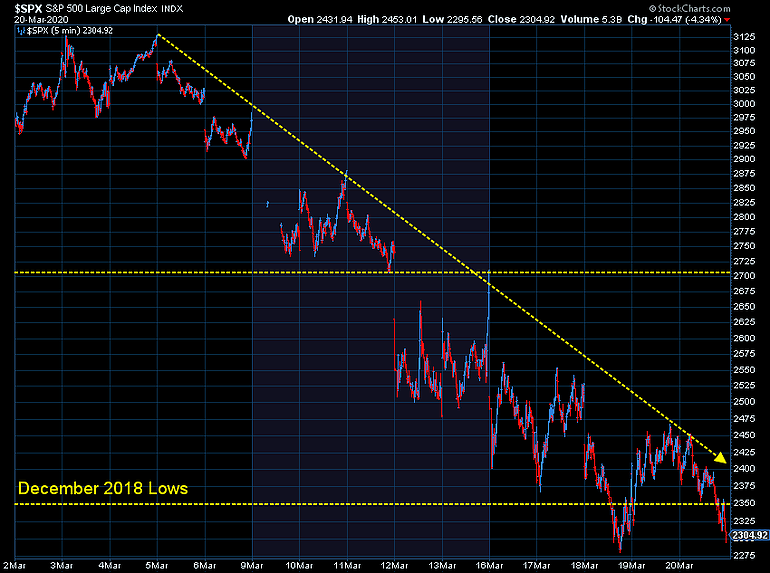 Finally, here are my favorite posts from our family chat over the weekend. Enjoy!